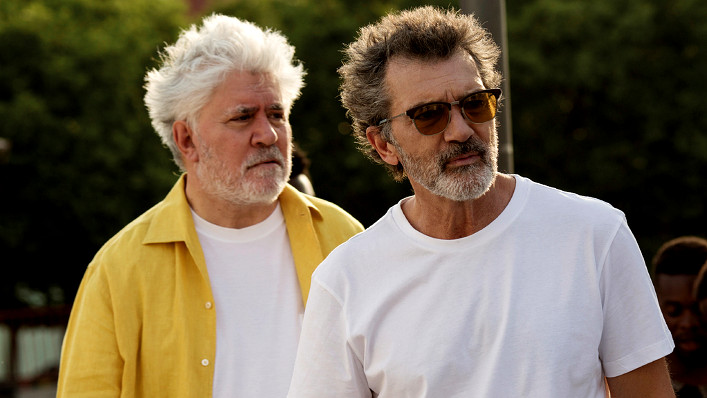 Pain and Glory serves up cinematic perfection from a stunning trio of talent

---

Spanish director Pedro Almodóvar's superb personal drama Pain and Glory (in cinemas this week) stars two of his favourite actors: Antonio Banderas and Penelope Cruz. The result is an unmissable film from a brilliant trio.

In Pain and Glory, Pedro Almodovar asks his audience to stare deeply at Antonio Banderas' face. It's one of the easiest tasks ever asked of cinemagoers and – in the Spanish director's evocative blend of fiction and self-reflection – one of the most rewarding.
Playing ageing, ailing but still beloved filmmaker Salvador Mallo, Banderas' pensive expression contains the character's entire world: the aches, fears, regrets, hopes and desires that Almodovar explores over the course of the feature. When Banderas closes his eyes because Salvador is tired, or high, or using the latter state to escape all his pains and problems, the actor proves just as revelatory. Viewers can no longer see into Salvador's soul, but we still know exactly how he feels.
Banderas, in intimate, intricate, subtly intense mode, is a wonder to watch. He's always been a delight when he's playing suave or sultry or even sinister, but he's in another realm here. Salvador is so laden with melancholy that he seems to contain every woe there is. And yet, as the audience quickly discovers, he's also often fishing for attention. Distressed yet vain, he's weighed down by his physical ailments, lack of work and depressive mood, while also demanding to be loved, adored, wanted, celebrated and cared for. Banderas conveys every distinctive note of this difficult, delicate and volatile combination.
The history between Banderas and Almodovar is crucial to the film's success
If Banderas hadn't been so coolly bewitching in Almodovar's 2011 thriller The Skin I Live In, it'd be easy to call Pain and Glory the pair's rapturous reunion. If they both hadn't been in such compelling form then, it'd be easy to call this their best collaboration since 1989's Tie Me Up! Tie Me Down!, too. The duo deserves endless praise for this, their eighth film together, but remembering their history is crucial to why Pain and Glory works so well.
In a feature steeped in autobiographical elements, Banderas both performs for and channels his director. It'd be easy to say it's best performance both of late and of his career as well, except that he's always so stunning when standing in front of Almodovar's camera.
Still, as Salvador seeks treatment for his sorrow, sore back, headaches, asthma and sudden bursts of choking, Banderas is truly sublime. Sparked by a commemorative screening of Salvador's first hit, the film has him cross paths with the actor, Alberto (Asier Etxeandia), who starred in it – and, as the pair reflect and reminisce in a drug-induced haze, Banderas is magnificent once more.
The characters' time together sees Alberto take on one of Salvador's projects as his own, then leads the filmmaker to delve further into his past with an old flame, Federico (Leonardo Sbaraglia), who still means a great deal to him. Again, seguing from anguished to dazed to yearning, Banderas is glorious. The Best Actor winner at this year's Cannes Film Festival, he could and should add more accolades to his mantle for Pain and Glory, turning in a performance no other actor could've mustered.
Banderas as Almodovar, and Almodovar as Banderas
In a film that outshines everything he's made since The Skin I Live In (2013's disappointing airline comedy I'm So Excited! and even 2016's beautiful and haunting Julieta), there's more than a hint of playfulness at work on Almodovar's part. He casts an actor that he enjoys a long past with to play a loose version of himself, then tasks his on-screen surrogate with reconnecting with an actor that he enjoys a long past with – and then asks that in-film actor to play a version of the movie's filmmaker, in a fashion, as well.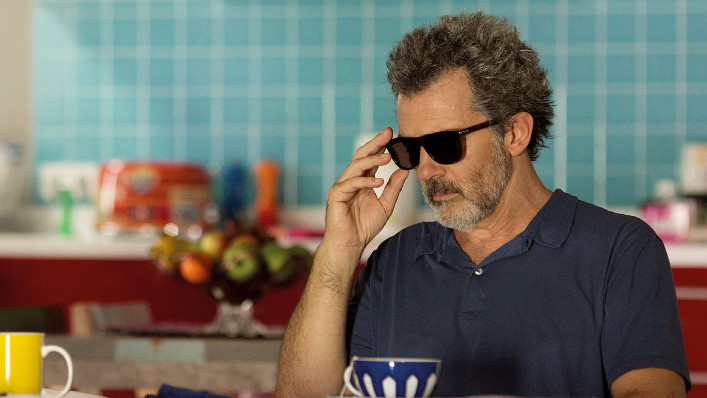 Banderas navigates these various levels of art toying with art and vice versa. He wanders around a home that virtually recreates Almodovar's own, sometimes wears some of Almodovar's real clothes and, with his tufts of greying hair and salt-and-pepper beard, is also styled to resemble Almodovar. Thanks to Salvador and Alberto's extended time away from each other, Banderas also excavates an element of his own relationship with Almodovar. Clearly, for this movie, no other actor would've done the part justice.
With ample pushes in the right direction from Almodovar, Banderas is outstanding. Almodovar didn't need to push himself, but he earns the same description. His name has long become shorthand for his filmmaking style, and Pain and Glory is definitely an Almodovarian film. It drips and pops with telling bursts of colour, paints emotions across costume and production design choices, and says as much in a blue or red-hued composition as the actors do with words.
That's classic Almodovar, as he's proven in everything from Pepi, Luci, Bom and Other Girls Like Mom to Women on the Verge of a Nervous Breakdown to All About My Mother to Broken Embraces across the past 40 years. But, when he's making movies about men who make movies, such as in Law of Desire, Bad Education and now Pain and Glory, his work seems to take on a particularly textured and probing tenor beneath his expressive visuals.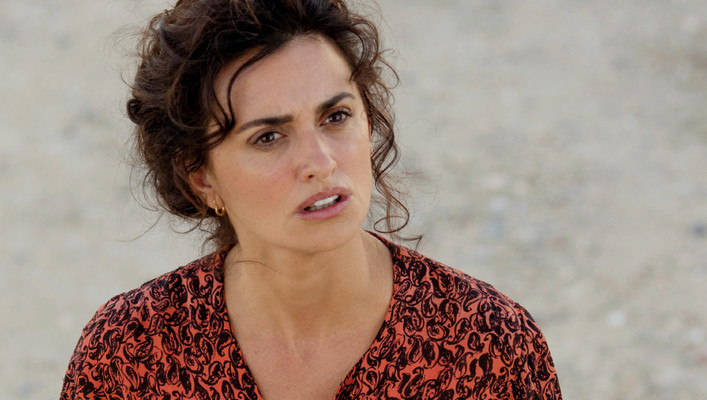 Enter Almodovar's muse, Penelope Cruz
Almodovar and Banderas make a stellar duo, as they did in Labyrinth of Passion, Matador, Law of Desire and Women on the Verge of a Nervous Breakdown. But in Pain and Glory, they're just two-thirds of the winning team. The other: Penelope Cruz. The star of Almodovar's Live Flesh, All About My Mother, Volver and Broken Embraces, and considered his muse for the past decade, she also cameoed with Banderas in Almodovar's I'm So Excited; however this marks the trio's first meaty project together.
That remains true even though, with Cruz playing the mother of Salvador in flashbacks to his childhood, the two actors inhabit separate sections of Pain and Glory. Banderas anchors the story in the present day, while Cruz takes charge in the past as the film sifts through Salvador's most powerful recollections.
Cruz, under Almodovar's guidance, has always excelled at complex parts that shift yet shine – and that's accurate here. Jacinta Mallo is a woman of fortitude and of multitudes, presiding over Salvador's youth with a vibrant but steely air, and providing a touchstone that the adult filmmaker keeps reaching back to.
Pain and Glory's flashbacks also focus on the family's big move into a cave house that requires extensive whitewashing, and the young Salvador's (Asier Flores) time with the labourer (César Vicente) who helps, but Cruz is a radiant beacon in these brightly lit memories. They're pivotal, after all, and she ensures that they stand out. As the film flows from Cruz's inimitable presence to Banderas' equally distinctive influence, it never escapes attention that Almodovar lets his superb personal drama flow from one of his favourites to another.