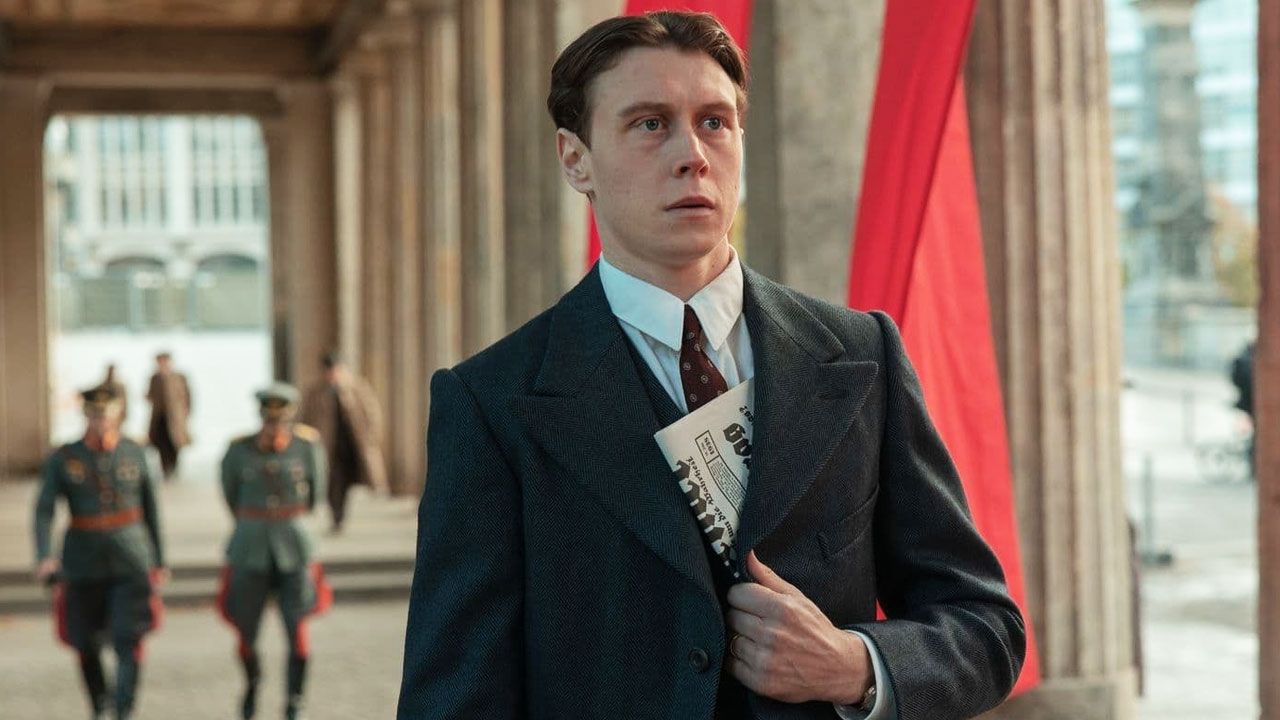 The dramatically engaging Munich: The Edge of War is *another* war film about upper-class white men

---
Far from a dry history lesson, Munich: The Edge of War depicts complex wartime issues in dramatically interesting ways. But the film is driven by characters we've seen so many times before, writes Fatima Sheriff.

The incremental build-up to World War II is a point of fascination for even the most amateur of historians. This new fictional period drama, directed by Christian Schwochow, is driven by personalities capturing the imagination rather than the politics of the era.
Based on Robert Harris' novel Munich, The Edge of War depicts a trio of promising Oxford graduates torn apart by escalating tensions as Hitler gains power in the 1930s. Hugh Legat (George Mackay), a patriotic, stiff-upper-lipped Brit, and his German friends Paul von Hartmann (Jannis Niewohner) and Lena (Liv Lisa Fries), rapidly lose their youthful enthusiasm when their big ideas become harsh realities.
Primarily set during the time of the Munich Agreement of 1938, the film is a history lesson in the compromises made by Britain and France that should never have been allowed. Ignoring Czech representatives, they sign and concede Czech territories in order to appease Hitler. Hugh, now private secretary to Prime Minister Neville Chamberlain (Jeremy Irons) and Paul, the press secretary for Hitler, are reunited at the conference where this agreement was made, years after their friendship fell apart due to political differences.
It's an uncomfortable vantage point with which to view history. Schwochow's film has time to add in fictional protagonists, but not, it seems, to actually portray the impact this agreement had on the inhabitants of Sudetenland. It contextualises the suffering of the Czechs only in relation to the upcoming war, making the lives of millions rest upon the actions of these few upper-class white men.
Not unlike the sideways glance on this period captured in Remains of the Day, the film does well to portray the brainwashing and regrets that came from those who believed in Hitler's nationalism. But once again it places them at the front of history, foregrounding their guilt when there are more interesting stories to tell. One reprieve is Joan (Anjli Mohindra), a spy working within Munich, depicted in a narrative thread that reflects on the work of real women of colour (like Noor Inayat Khan, who helped win the war). Though seeing Legat struggle with espionage is equal parts stressful and charming, there are much cooler stories to be told.
From a dramatic standpoint, however, the film succeeds, presenting another credible war-time performance from Mackay (also the star of 1917), who again has winning chemistry he has with his co-stars. The Edge of War is a tragedy about what could have been, if nationalism hadn't gotten in the way, illustrated performance-wise through many a powerful gaze shared between Hugh and Paul. They play their parts in earnest, representing the conflict between their desires to hope and to fight.
Despite its decision to focus on well-trodden narratives, it is refreshing to see Chamberlain on screen compared to the abundance of Churchill. As the British PM, Irons cuts a sympathetic figure without erasing the dubious nature of the choices he and his colleagues made.
For viewers uninterested in history, The Edge of War will fill in a knowledge gap and depicts a huge ethical dilemma in accessible ways. Though simplistic at times, the star-crossed doom at the heart of the film is heart-wrenching, the performances carrying what could have been yet another story in a saturated genre and era. Perhaps in the future this energy can be channelled into telling stories of those less privileged within the crisis.