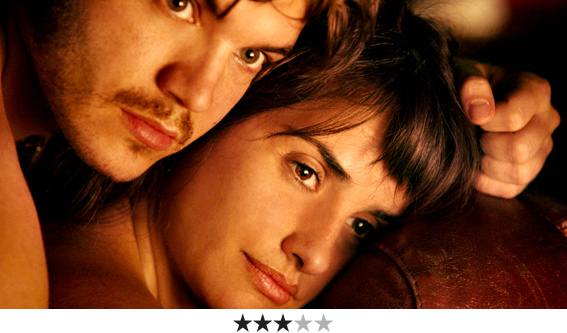 ---
"The weirdest love stories are always the best ones," says Emile Hirsch's character, Diego in Twice Born. Weird may not be the best way to describe this sweeping romance, set in the Yugoslav wars of the 1990s. Rather, it's an intriguing tale, driven by the desire to have a child, that takes place between flashback scenes of war-torn Sarajevo, and the present day. Middle-aged Gemma (Penelope Cruz) has returned to the city with her ambivalent teenaged son, Pietro at the invitation of an old friend, Gojko (Adnan Askovic).
Italian director Sergio Castellitto worked with his novelist wife Margaret Mazzantini to turn her book into the film. Like many adaptations, it struggles to condense the sprawling story. The set-up, though long, feels patchy; the friendship between the academic Gemma and her literary friend Gojko rushed; and her passionate love affair with her American lover, Diego underdeveloped. Why Emile Hirsch was cast as the effervescent photographer makes as little sense as their supposedly all-consuming relationship. Despite a magnetic performance from Cruz, she has little chemistry with Hirsch, whose portrayal of the boyish Diego feels like an imitation of Jack Black, a glaring distraction in a film that aims for dramatic resonance.
But as the pieces of this meticulously-plotted puzzle start slotting into place, Twice Born regains itself as a compelling and gripping story, several poignant surprises leading to a stunning resolution. Setting it in Sarajevo gives it a gravity it might lack otherwise, but the social and political drama of war mostly plays a back seat to the tragic romance.
Yes, there are weird touches. Jane Birkin appears as an inexplicably emotional adoption agent. And Gojko has an irritating way of speaking in a flowery poet's dialect that might have worked in the book but onscreen feels artificial. Meanwhile, exotic Turkish actress Saadet Aksoy plays a young, Nirvana-obsessed musician who becomes involved with the ill-fated pair, almost eclipsing Cruz's beauty in the process. But for the most part, this is Cruz's film, one that rides on her physical allure and ability to transform from fragile to fierce.