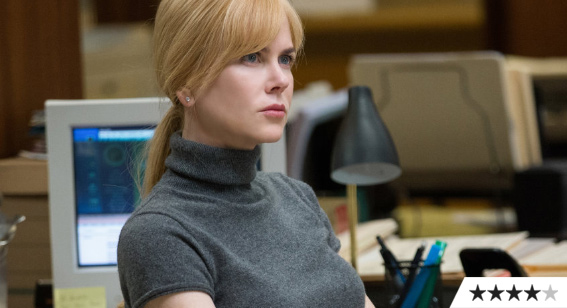 Review: Secret in Their Eyes
---
In 2009 an Argentinian film, The Secret In Their Eyes, won the Oscar for Foreign Language Feature Film. Hollywood in its infinite wisdom has remade that film for the English-speaking market otherwise known as those-who-won't-read-subtitles. Unsurprisingly, they have chosen to release this film, starring three Oscar mainstays – Julia Roberts, Nicole Kidman and Chiwetel Ejiofor – at the start of Oscar season. For Secret In Their Eyes is nothing if not Oscar bait.
The irony is, its strongest message is to highlight how good television is right now.
The plot sees Roberts, Kidman and Ejiofor brought together 13 years ago, in the wake of the events of 9/11, for a multi-disciplinary taskforce designed to investigate terrorist threats. In the process of gathering evidence around a particular mosque a body is discovered. It is the teenage daughter of Jess (Roberts), a tragedy that will irreparably alter the lives and careers of the trio.
Moving back and forth between the present and the immediate aftermath, Secret In Their Eyes slowly reveals a twisting plot of whodunnit mystery merged with conspiracy-laced thriller. It is vastly intelligent, interwoven and layered.
And it should have been a TV series.
In this oft-acclaimed Golden Age of Television this is the sort of storyline that the major drama networks could have fleshed out to deliver the next True Detective. We have been spoiled by our binge watching. To the point where the hints of complex relationships and compromised loyalties that the film effectively glosses over are insufficient. Part of us cries out for the 6, 8 or 13 hour version of this tale.
Which is not to diminish the performances which are excellent – and which might see Supporting Actress awards nominations for either Roberts or Kidman should they be considered for that category – nor the filmmaking which is rock solid.
Sadly though, this is a film that defines itself by what it is not. It is not the original, it is a remake. And it is not a great television series, it's a really good flick.