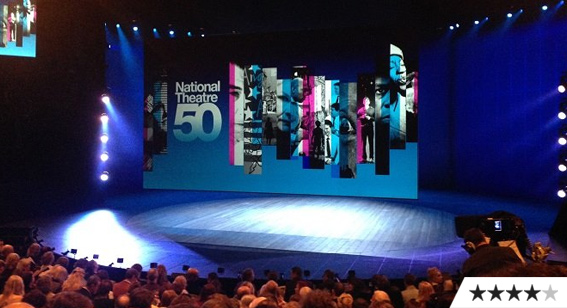 Review: NT Live: 50 Years on Stage
---
A fascinating commemoration that clocks in at more than two hours, this part-performance, part-documentary is nonetheless forced to race through five decades of material at quite a pace. There's only a smattering of info on the National Theatre's previous life at the Laurence Olivier-directed Old Vic location before it launches into excerpts from its famously wide spectrum of plays, from Shakespeare to Noel Coward and even Jerry Springer: the Opera, performed by acting stars from past and present.
See Benedict Cumberbatch muse on life after death in Tom Stoppard's Rosencrantz and Guildenstern are Dead, Helen Mirren go to deathly lengths in Mourning Becomes Electra, Ralph Fiennes take on Anthony Hopkins' scary newspaper editor in Howard Brenton and David Hare's Pravda, Penelope Wilton and Nicholas Le Prevost pontificate over pilchards on toast in bed in Alan Ayckbourn's oh-so-British Bedroom Farce, and James Corden play for laughs in Alan Bennett's The History Boys. And that's just scratching the surface. It's a testament to the British sense of humour that so many are comedies. Other stars, such as Maggie Smith, Joan Plowright and Rory Kinnear deliver stirring soliloquies.
The performances are interspersed with old footage of performances at the National Theatre, (including an intriguing performance by Smith in her youth), and the briefest of interviews with veterans and directors. Of course, they're only short, and despite the camera alighting behind the London crowd watching it all unfold live in the theatre, a little imagination is required to get the full effect. And it isn't always immediately apparent if you're watching the commemorative performance or recent footage, but it feels quite a treat to get such comprehensive access to some of the world's best performers and there's a powerful sense of being part of something significant.