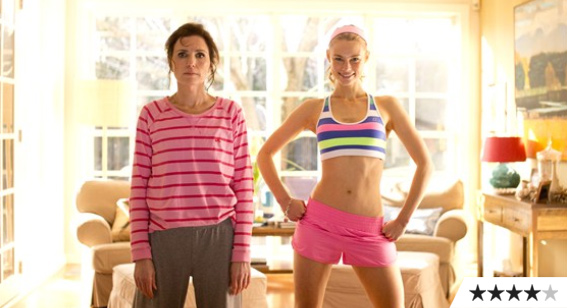 ---
Where to start? To praise the Australian comedy that had the balls to try, the brains to do some great casting and the talent to include some decent family-level laughs? Or to admit that it's a case of close but not close enough?
Comedy cinema is a tough business. You have to nail the drama, the narrative and the emotional arcs just as well as any other genre. Then you have to get the laughs.
Now Add Honey is the tale of a suburban Australian family, thrown into chaos by the arrival of a cousin, turned Hollywood starlet Honey (an impressive Lucy Fry), written as some sort of Bindi Irwin on the path to Miley Cyrus.
Robyn Butler, the brains behind comedy television hits like Upper Middle Bogan and The Librarians – as well as the impressive kids show Little Lunch – wrote the film and stars as Caroline, the mother attempting to keep the rapidly and comedically exploding elements of her family together.
One sister is a stage mum on a global scale (an oddly inconsistent Portia de Rossi) the other an attention-seeking victim with body issues (musicals favourite Lucy Durack) engaged to Hamish Blake who is in essence playing Hamish Blake. It is a recipe for chaos when added to her own serially unhelpful husband Erik Thomson and two daughters tween Harriet (Lucinda Armstrong Hall) and teen Clare (the excellent and scene stealing Philippa Coulthard).
The best thing about Now Add Honey is that it is an original take on a familiar sphere. The best comedic moments are earned through this individuality. Sadly, Now Add Honey relies on too many family movie tropes and clichés to score any 10s from the judges.
It has taken on a huge degree of difficulty, though, and as such earns many plaudits. So perhaps not a cinema must-see but certainly a worthy home entertainment watch.