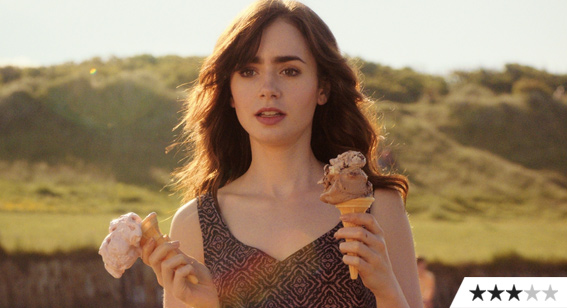 ---
A rom-com about boy-girl best friends is hardly going to floor you with surprises. And neither do you want it to. Rosie (Lily Collins) and Alex (Sam Clalfin) are both so charming and lovely on the eye – even in times of heartache and misery – that you can't help clasping hands with them and running into the flattering lens flare as they negotiate near misses and what-ifs.
Adapted from the novel Where Rainbows End by Irish author Cecelia Ahern, the film is set in a non-descript storybook Britain with interludes in Boston, where brainy, rakish Alex goes to medical school. Rosie's shock pregnancy prevents her from joining him there, and so their inseparable lives diverge.
The story spans 12 years from high school braids and foppish fringe (eat your heart out Hugh Grant) to mom bob and preppy doctors do, with plenty of bed hair along the way thanks to meddlesome ice blondes and greaseballs attempting to derail the inevitable.
Love, Rosie is full of those incongruities that only apply in movie world – a chambermaid affording a fancy flat, a secret pregnancy in the days of Facebook – and some heavy-handed theme-pushing about following your dreams. But the lashings of schmaltz, some bawdiness and genuine tear-jerking moments make this confection an easy swallow thanks mostly to the solid performances of the two leads.
Not so impressive is Suki Waterhouse proving models should stick to their day job, even when they're playing models.