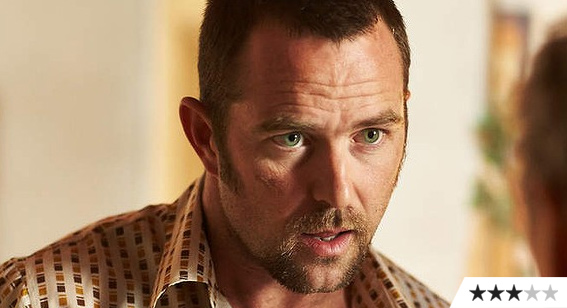 ---
There is an inherent danger in discussing Cut Snake that by mentioning any details, too much of a spoiler will be given. So, be warned, major plot points will be revealed herein – or at the least heavily alluded to – as it is up for debate whether their reveal is central to appreciating the film, but there is no debate that they must be revealed to discuss it.
In other words, if you already plan to watch Cut Snake, stop reading … now.
In suburban 1974 Australia, we meet Sparra (Alex Russell) a (very) young man with a deliberately vague history but a bright future, particularly with soon-to-be-fiance Paula (Jessica De Gouw) and an apprenticeship on the cards.
We also encounter Pommie (a brooding Sullivan Stapleton) who we soon learn is the ex cell-mate of Sparra, though their history is far more complex than simply shared time. Suffice to say, Cut Snake screened at the Queer Film Festival.
What director Tony Ayres and writer Blake Ayshford have set out to create – and largely achieved – is a genuine Australian noir film. The quality of this movie lies not in the plot reveals, but in the ratcheting tension, the inevitability of the looming disaster and the only important question of how, or if, any of them will survive and escape.
Ayres' greatest success is in his casting of the central trio. Each of the actors delivers a magnetic performance, particularly De Gouw who is excellent in a role that could so easily have amounted to nothing more than an animated plot device. Most impressive though is the explosive chemistry between Russell and Stapleton who you expect to ricochet off each other at any and every moment.
Cut Snake is not an easy film and certainly not for everyone, but is a fine addition to the far-from-dated noir genre as well as being a nightmare for publicists and film critics to describe.
Want More? Try: The Disappearance of Alice Creed, Starred Up, Last Train to Freo