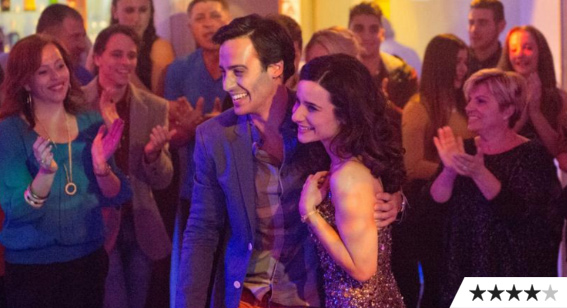 ---
In the rapidly growing sub-oeuvre of Australian Suburban Culture Clash Rom-Coms, hot on the heels of UnIndian which explored the complexities of a relationship between an Indian-Australian and a Brett Lee Australian, comes Alex & Eve, zeroing in on a Greek-Australian and a Lebanese-Australian.
Alex (Richard Brancatisano) is a high school teacher (perhaps he studied with Will, the teacher played by Lee in UnIndian?) who meet-cutes Eve, after just enough screen time to establish he never, ever, ever, never wants to get married. Andrea Demetriades steals the film as Eve, already dealing with enough generational conflict as a successful corporate lawyer by day who has to play dutiful daughter to her Lebanese Muslim parents by night.
Developed and sharpened through a cult-followed, nation-touring theatre comedy experience, this has been sharpened into a crazy, brutally funny and big-hearted romp that is light (but surgically accurate) on the dramatic cultural tension and heavy on every joke, gag and laugh at cultural hang-ups available.
Which is not to say there aren't problems. Audiences may find themselves rapidly yearning for a bit of Brett as they face the one-dimensional portrayal of token very white Australian that is Millie Samuels' Claire, a character that too often mistakes naivety and inanity. This is a forgivable foible, though in the context of a story is willfully over the top.
Less certifiable is an ending that wimps out on both its culture-clash ethos and the rom-com genre in which it operates. Without delving into spoilers, what should have been a baklava- and olive-scattering bang is delivered with more of a if-we-rush-this-they-won't-notice whimper.
The tragedy is that this one sin marks the exit for Alex & Eve, as though they took too much inspiration from their Biblical title, tainting an otherwise fantastically fun and funny tale that delivers exactly what it promises.