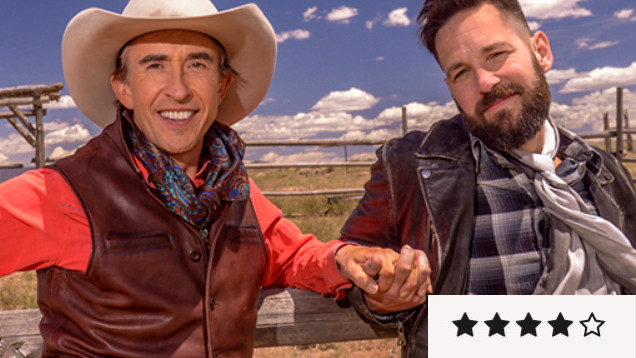 Ideal Home review: a warm-hearted ode to same-sex parenting, with a killer cast

---
When Ideal Home ends, it's with a rousing series of family snapshots, all featuring same-sex parents and their offspring. Adults beam, children grin and the sounds of 10cc's The Things We Do For Love pairs perfectly with each real-life photo. Writer/director Andrew Fleming could've opened the movie with the same slideshow and it would've proven just as moving, in a Gayby Baby-style ode to parental bonds, just in a microcosm. But it's perhaps a bigger compliment to note that this heartfelt comedy-drama would've worked without the overt tribute, with its sweet and sincere story striking a chord on its own.
First seen bickering in their jobs as a cooking show star and producer, respectively, Erasmus Brumble (Steve Coogan) and Paul Morgan (Paul Rudd) are neither prepared for nor expecting to become parents. When a colleague remarks about their constant fighting on set, Paul remarks, "we don't get along this well at home." When the same co-worker asks why they stay together, the response is equally as acerbic: "part of me wants to stick around just to watch him die." Among Paul's other witticisms directed towards his long-term partner: "he's like the gay Butch Cassidy, except not butch."
The barbs, banter and snark keep coming — earnestly, not stereotypically so — but after a surprise interruption to Paul's coke-fuelled birthday bash, the couple's to-and-fro revolves around someone else. Suddenly there's a third person in their sprawling household, in the form of Erasmus' pre-teen grandson (Jack Gore). The son of a just-incarcerated son Erasmus fathered when he was "probably off my tits on Quaaludes", in his own estimation, the boy shows up with a note scrawled in a hotel bible and a plastic shopping bag containing his modest belongings. He doesn't want to talk or to be there, but he has nowhere else to go.
sincere characters, thoughtful details and an intimate approach that makes viewers feel like the fourth member of the movie's growing family
Like an inverse version of What Maisie Knew, Coogan's other parenthood-focused effort from the past decade, the hedonistic squabblers learn to embrace their new roles as pseudo-fathers. Or, in a light-hearted reversal of Philomena — the tear-jerking, based-on-a-true-tale drama that Coogan nabbed an Oscar nomination for co-writing — two adults find the family they didn't know they were looking for.
There's little in the way of surprises in Ideal Home, which serves up its tender narrative with a C+C Music Factory-soundtracked montage, glowing shots of the feature's Santa Fe setting and a jaunty pace. However Fleming fleshes out his recognisable story with sincere characters, thoughtful details and an intimate approach that makes viewers feel like the fourth member of the movie's growing family.
It's a tactic the veteran knows well, with unconventional bonds a recurrent fascination across the filmmaker's three-decade career. And while Ideal Home somewhat recalls a selection of Coogan's recent roles, it also resembles the sum of much of Fleming's output to date. In Threesome, he found unexpected depths and connections in a seemingly straightforward situation. In political parody Dick, humour resounded in a comic scenario that snappily challenged the status quo. The In-Laws' blend of family clashes and espionage shenanigans was far less effective, but still probed the intricacies of complicated relationships. And, in the biggest hit on his resume — '90s goth favourite The Craft — he let his teen witches find their place outside the mainstream, grappling with both the joys and painful life lessons that followed.
Sign up for Flicks updates
Back in 2008, Fleming also wrote and directed the improbably amusing Hamlet 2, about an alcoholic actor turned high-school drama teacher intent on staging a sequel to one of Shakespeare's greatest works. It was his first collaboration with Coogan, as well as a vehicle for the British actor's expressive comedy and meticulous character work — and though Ideal Home initially seems to feature another broad turn by the star, the film finds nuance and insight that wasn't ever in Hamlet 2's remit.
Watching Erasmus dub Taco Bell's menu "Mexican jazz" and demand to see the wine list is an over-the-top delight, but watching him discover that he'd like something substantial beneath his flamboyant surface is a much more delicate and touching task. In what becomes a fine-tuned three-hander, a particularly sharp, zinger-spouting Rudd and the quietly internalised work of young Gore also impress. Their characters might form an Ideal Home in this warm-hearted effort, but the actors also prove an ideal cast.