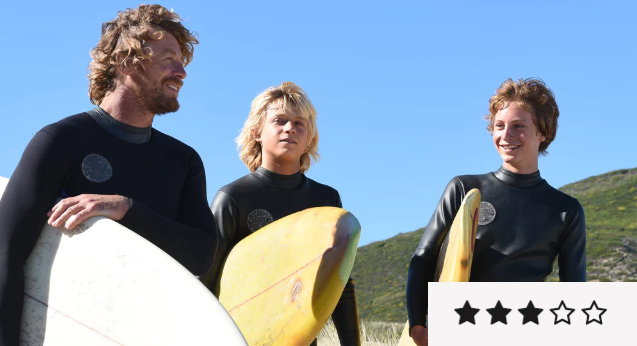 Breath film review: a spiritual surfer movie that drips with authenticity

---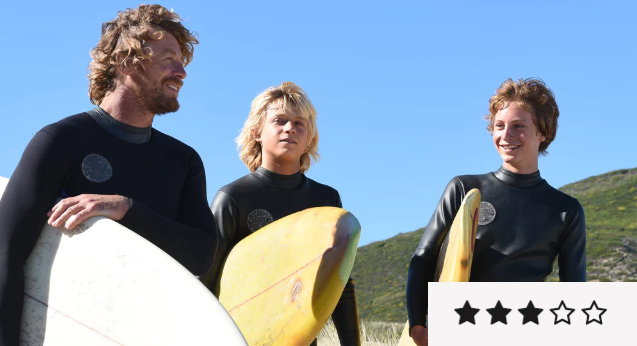 Simon Baker (from T.V's The Mentalist and L.A. Confidential) charges into the director's chair with dramatic intensity and confidence, adapting Tim Winton 70s coming of age novel Breath. Set in an isolated coastal town in Australia, two 'grommets' (novice surfers) Pikelet (Samson Coulter) and Loonie (Ben Spence) are drawn to the waves. As they embrace the chase and challenge a mysterious, battle-hardened, big wave master Sando (Baker) takes them under his wing and pushes them beyond their limits.
If you've read Tim Winton, you'd agree that his prose has the power to impart that implacable allure and experience of the elements. Baker and underwater cinematographer Rick Rifici render the flow of being on the water, with a swell of any size, with such energy that you get the charge of being there. Baker, Coulter and Spence are all clearly on the water, catching waves. If they're not then Baker's time on The Mentalist has granted him the command of CGI laced with dark magic.
Breath is not merely concerned with adrenaline rush; there's a deeply spiritual practice wrapped in neoprene that glides gracefully across moving water on fibreglass. The script (adapted by Gerard Lee and Baker from Winton's novel) muses on this pursuit.
As a child of a coastal surfing community, I can tell you that the script drips with authenticity.
It might feel like a fantasy, with gruff voice over and the silence and beauty of underwater filming, but as a child of a coastal surfing community, I can tell you that the script drips with authenticity. The deeply inferred class distinctions; the hippie surfers and the rigid, conservative working class. The choice in many instances places for the actors to convey their characters' emotion, rather than expound their feelings in long monologues makes dramatic sense.
Baker delivers an unselfish performance that's refreshingly in his native brogue. The lines in his face shade all the necessary topography of a life lived, contrasting the face of Pikelet (Coulter), with its notable absence of lines. Samson Coulter's performance as Pikelet is in the school of Martin and Charlie Sheen, in Apocalypse Now and Platoon respectively. It's crafted and restrained to withhold those impulses that expect in scenes of heightened emotion. Occasionally you watch Coulter try on the personas of those around him; flexing who he is from who he wants to become. Ben Spence delivers a character with great certainty and unpredictability as Loonie.
Elizabeth Debicki's Eva is where Breath wipes out. While Debicki's emotional performance attempts to render Eva at her wit's end, the actor ultimately fails to make sense of the events that surround her character in the latter part of the film. Debicki exudes something inherently powerful in her posture and in her gaze that make her actions reek of melodramatic fantasy (which, in my research in the wake of viewing the film, was cast at the novel).
Baker's assured debut makes a profound impact in its portrayal of surfing as a physical and spiritual pursuit. And it makes an equally profound misstep in Debicki's portrayal of Eva.