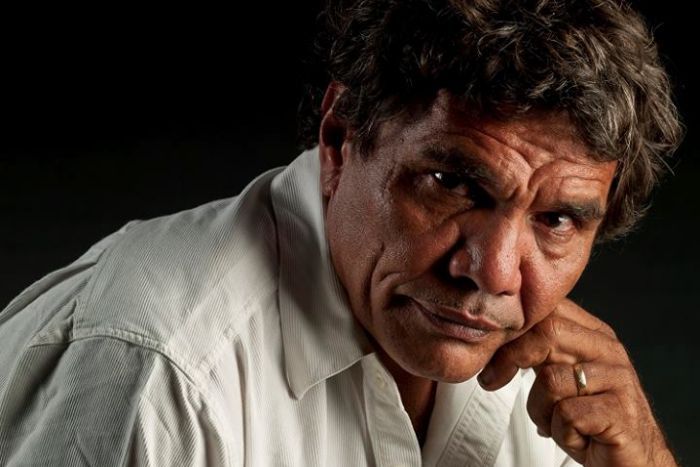 The legendary indigenous actor Tom E. Lewis has passed away, age 59. He died suddenly, late in the night, in his home in Katherine in the Northern Territory. Lewis' family issued a statement on Friday morning reading:
"It is with tremendous sadness that we confirm the sudden passing of TE Lewis…Mr Lewis will be forever remembered for his compelling and enduring work on stage and screen over 40 years, as a renowned musician, and as the driving force and vision behind Djilpin Arts with his partner and his extended family of Beswick and Arnhem Land communities. He will be greatly missed."
In recognition of his extraordinary public life, the family have agreed to the use of his image and voice.
Lewis shot to fame and international recognition following his performance as the protagonist in director Fred Schepisi's 1978 classic The Chant of Jimmie Blacksmith. The film, a revenge drama about a murderous Indigenous Australian man, became a pioneering production in the Australian New Wave. The famous American critic Pauline Kael described it as "the one great Australian film that I have seen."
Lewis' other films include We of the Never Never, The Proposition, Goldstone and Red Hill.
In addition to being a renown screen and stage actor (with over 20 theatre productions to his name) the Murrungun man was also a singer-songwriter. Vale.
From the start till the end of his career, Tom E Lewis had incredible presence. He made your eyes widen and your pulse quicken. The Chant of Jimmie Blacksmith is his most famous performance. Great in other films including Red Hill and Goldstone. Vale https://t.co/gEfGTv7nj4 pic.twitter.com/paV8RFFcfc

— Luke Buckmaster (@lukebuckmaster) May 11, 2018
Vale Tom E. Lewis, who has died age 59. Chant of Jimmie Blacksmith is an indelible Australian film classic, but I will also remember him as an Indigenous Lear in The Shadow King, with an all-Aboriginal cast, in 2014, a play he took up north to his country. https://t.co/CGJcwfXS1G

— Steve Dow (@dowsteve) May 11, 2018
Farewell Tom E. Lewis, 59.
The title star of Fred Schepisi's brilliant 1978 drama THE CHANT OF JIMMIE BLACKSMITH.
The director spotted him waiting at the airport for his flight home to Darwin, and asked him to audition. pic.twitter.com/xi3Hr899M1

— Rhett Bartlett (@dialmformovies) May 11, 2018
Vale Tom E Lewis

The Murrungun man, singer, songwriter & arts advocate has sadly passed after a stellar 40 year career, from starring in THE CHANT OF JIMMIE BLACKSMITH to roles in A TOWN LIKE ALICE & GOLDSTONE. https://t.co/7puQTmXIIj pic.twitter.com/hQtPhFYiyb

— ACMI (@ACMI) May 11, 2018
This is such a tragedy. Mr Lewis was remarkably talented and an incredible advocate for #Indigenous culture, humanity, and reconciliation – privileged to have met him: Tom E Lewis actor, singer and songwriter dies suddenly https://t.co/V0DxXA2O6l

— Paul Daley (@PPDaley) May 11, 2018
The Board and Management of the LDC extend their sincerest condolences to the family of Mr. Tom. E. Lewis.

In addition to an amazing career in the performing arts Mr. Lewis was an enthusiastic supporter of working callaboratively with Larrakia in his role as a Director with ANKA pic.twitter.com/FHChHGnuKI

— Larrakia Dev Corp (@LarrakiaDevCorp) May 11, 2018
An incredible actor, gone too soon. If you haven't seen THE CHANT OF JIMMIE BLACKSMITH, now is the time to experience & remember this incendiary performer.https://t.co/PddAat6WEM

— Ben Buckingham (@dissolvedpet) May 11, 2018