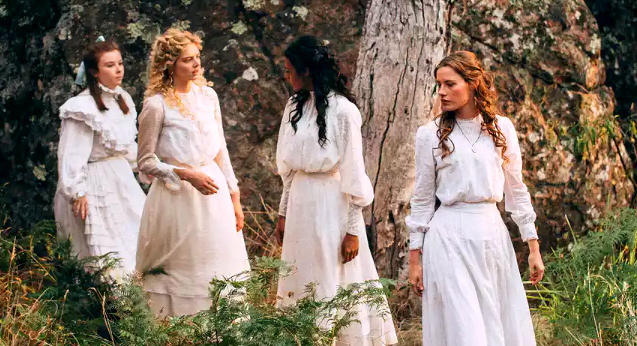 Everybody's gearing up for the release of Foxtel's new six part adaptation of Picnic at Hanging Rock, which arrives in Australia on May 6. It is one in a recent spate of classic Australian films that have, or soon will, be brought to the small screen including Romper Stomper and ABC's soon to be released Mystery Road.
The cast for the new Picnic at Hanging Rock includes Natalie Dormer (from Game of Thrones), Yael Stone (from Orange is the New Black) and Lily Sullivan, Anna McGahan and Samara Weaving. The show was directed by Larysa Kondracki (The Americans), Michael Rymer (Hannibal, American Horror Story) and Amanda Brotchie (Squinters).
If you thought this new take on author Joan Lindsay's classic novel might be sacrilege, given how great the original 1975 film is, perhaps some opinions from the critics might sway you. The reviewers have responded incredibly enthusiastically to the new show.
Try these reviews on for size.
Pilot Viruet from Variety said:
"It doesn't take long for writers Beatrix Christian and Alice Addison to make the case for their own 2018 "Picnic," a darker, more mysterious, and extended version that manages to feel updated for our time while still keeping the original 1900 setting."
Holly Byrnes from News.com.au wrote:
"Just as the Weir movie was groundbreaking for the local film industry in its day, this remarkable six-part TV drama takes extraordinary risks — from experimental camera angles and a soaring soundtrack, to costumes and cinematic styling that, at times, takes the viewer down the rabbit hole, Alice In Wonderland style."
David Rooney from The Hollywood Reporter believes it is:
"A simmering nightmare drenched in lush color, energetically shot with a propensity for psychologically unsettling Dutch angles, and powered by a surging contemporary score."
And Luke Buckmaster from The Guardian (and also a writer for Flicks) described it the following way:
"The grass is so green it looks like bubble-wrapped astro turf. When sunlight collides with women in white dresses, the effect is less angelic than retina-burning. The new Picnic has the stickiness of the Kettering Incident, the gloss of Luhrmann's Gatsby, the candied sheen of Tim Burton's Wonka or Wonderland, as if the frame has been covered in goo from a melted rainbow."
Cripes. We are ready for ze new Picnic at ze Rock.
All six episodes of Picnic at Hanging Rock will be available on Foxtel from Sunday May 6 at 8:30pm