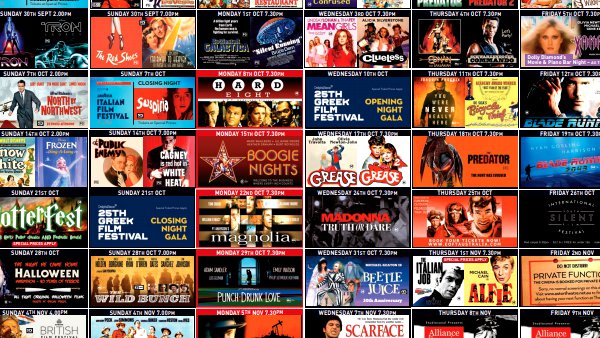 Melbourne's iconic Astor Theatre is celebrated for many things, including its epic calendars. Over the many years  the calendar has been printed, it's been stuck on walls in the homes of countless Melbourne cinephiles.
These days the calendars live on in all their colourful and busy glory. The Astor this week released its calendar for September through to December, and it's a doozie – crammed full of cinematic delights, including some awesome retro double screenings.
Here are some of our highlights:
THX 1138 followed by Logan's Run (September 12)
Tron followed by Tron Legacy (September 30)
Conan the Barbarian followed by Commando (October 4)
North by Northwest (October 7)
All the films of Paul Thomas Anderson (screening each Monday night from October 8 to November 26)
Halloween movie marathon, screening all eight original Halloween movies (October 27)
Scarfare (November 7)
Terminator followed by RoboCop (November 15)
See? We told you it was epic. For the full PDF of the calendar, click here.