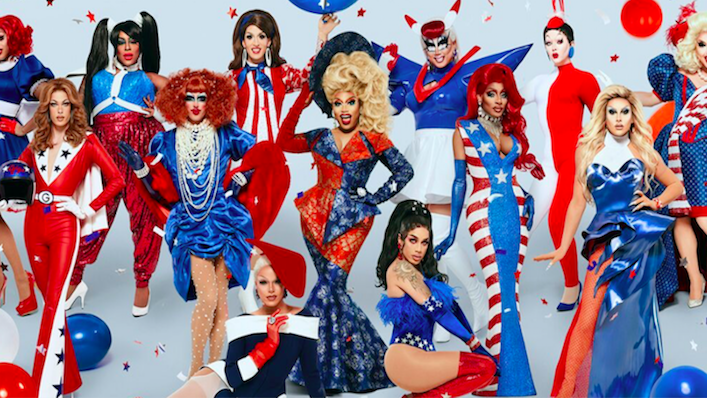 RuPaul wants YOU in the first patriotic trailer for season 12 of RuPaul's Drag Race

---
At a time when the red, white and blue is under more scrutiny than ever before, we get one inspiring shot of patriotism from the most unlikely of places: the trailer for season 12 of RuPaul's Drag Race. In this Emmy-winning reality competition show, 13 up-and-coming drag queens compete for the title of America's Next Drag Superstar.
Sign up for Flicks updates
The energetic teaser shows off each be-sequinned competitor's fierce aesthetic and promises the same atomic levels of charisma, uniqueness, nerve and talent that have characterised each season of the celebrated show.
Given the ubiquity of the show since its first season way back in 2009, a handful of the upcoming seasons' queens are descendants or drag family members of previous contestants. Dahlia Sin is the drag daughter of season nine's Aja, and New York queen Brita has collaborated with a tonne of the show's royal family of performers.
If you're unfamiliar with the show, February 29 could be a great time to start. Each season follows a diverse group of talented drag queens who must test their mettle through a variety of tasks like singing, acting, comedy and fashion design. Each week, the two weakest queens will be forced to lipsync for their lives, with drag icon RuPaul deciding which queen will survive the lipsync to drag another day.
Best name among this new batch could go to either Crystal Meth'd or Heidi N Closet, but apart from that distinction it's hard to say which queens will lead the pack and which ones will be encouraged by Ru to "sashay away." A short 'Meet The Queens' video is available for each of the potential winners, so feel free to have a look and choose your champion.
RuPaul's Drag Race and the sassy behind-the-scenes mini-show Untucked will both be available exclusively on Stan on February 29, the same day  the show premieres in the US.