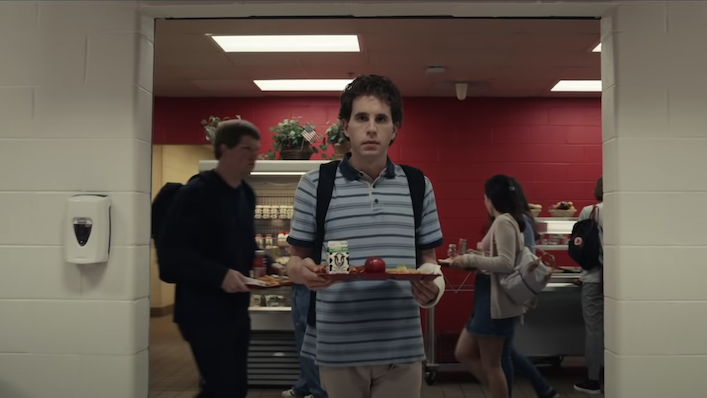 Musical phenomenon Dear Evan Hansen will arrive in cinemas later this year

---
"Dear Evan Hansen", Ben Platt voices aloud as he types. "Today is going to be an amazing day and here's why."
The letter isn't for anybody's eyes but his own—in the below trailer, Platt plays Evan, a socially anxious teen whose therapist has asked him to write hopeful messages to himself.
But when Evan's letter is mistakenly attributed to Connor Murphy (Colton Ryan)—a wealthy and popular classmate who commits suicide shortly after the pair's first encounter—the lonely boy's world is turned upside down. A movie musical with something to say, Dear Evan Hansen is arriving in cinemas around Australia on December 9.
Adapted from a Tony-award winning Broadway phenomenon, Dear Evan Hansen was initially scheduled to hit our screens this September, but has been postponed to the end of the year in an apparent attempt to reach as many Australian viewers as possible.
Everyone behind this film is committed to making you sob snotty tears. The director is The Perks of Being a Wallflower author Stephen Chbosky, the supporting cast includes Amy Adams, Julianne Moore, Kaitlyn Dever and Amandla Stenberg, and the music comes from La La Land and The Greatest Showman composers Pasek and Paul. Listen to a bit of it below and prepare to weep.
You might recognise Platt from previous roles that have given him ample opportunity to show off that voice: Pitch Perfect, Netflix's campy series The Politician. The actor has copped some attention for looking uhhh a bit older than the teenaged protagonist he's depicting, but it's hard to imagine anyone else in the role. Platt's original stage performance in fact made him the youngest ever winner of the Tony for Best Actor in a Leading Role in a Musical.
It's kind of a bummer to wait until December for Dear Evan Hansen when the rest of the world will seemingly be able to witness this movie musical far earlier than Australia. Still, gives us a bit of extra time to warm up our vocal chords in order to bellow along to these songs of loneliness and isolation with Platt.