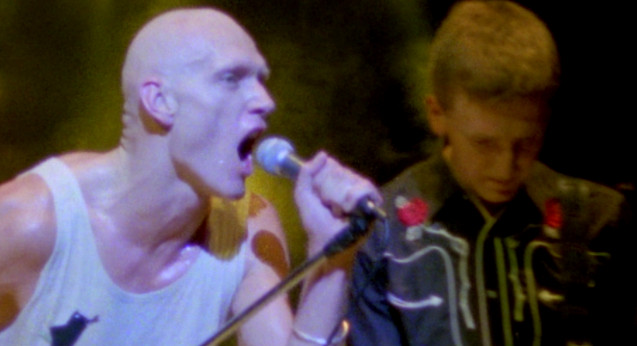 Madman Entertainment have revealed the first look at the new documentary Midnight Oil 1984, which arrives in Australian cinemas on May 10. The film is directed by veteran Ray Argall, whose other directorial credits include the 1990 Ben Mendelsohn drama Return Home.
Midnight Oil 1984 purports to be a "documentary chronicling the rock band who galvanized a generation of young Australians," featuring "concert footage from their most legendary shows."
The film examines the personal struggles of the band members as they try to balance the demands of both music and politics. It captures the time in the 80s when Peter Garrett decided to join the race for an Australian Government Senate seat (not to be confused with his later stint as a federal minister for the Labor Party).
The trailer begins with on-the-road footage of Australian suburbia back in the 1980s. We see the likes of Bob Jane T-Marts and a Putt-Putt golf course. Then footage of a Midnight Oil concert, with an interviewee telling us that "from the first song, they destroyed it."
As footage plays of the band rocking out (including Garrett doing his legendary dancing) we are told that "the ceilings used to drip with condensation. Everything was wet from sweat."
At this time Garrett was getting involved with politics during the day (joining the Nuclear Disarmament Party) and rocking out at night. Some might say, the man had the Power and the Passion.
Midnight Oil 1984 will join a small number of Australian rockumentaries, such as Australian Made: The Movie, which featured INXS, Divinyls and Jimmy Barnes.
For tickets and times to Midnight Oil 1984, visit this page.