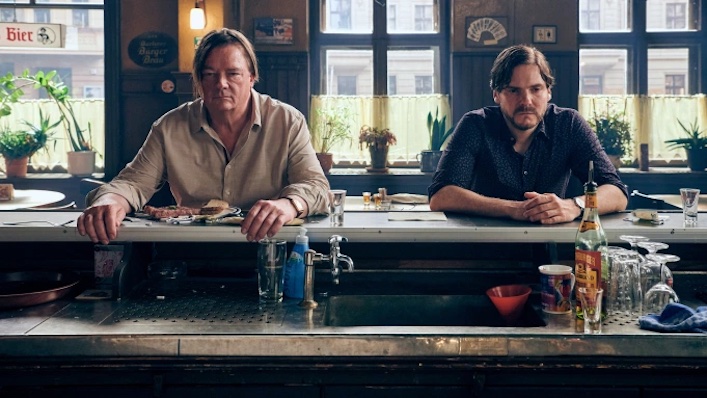 From designer cocktails to Fassbinder, 2021's German Film Festival line-up is wunderbar

---
A sehr fantastich selection of 30 German-language films will be arriving soon at Palace Cinemas across Australia. It's the 2021 German Film Festival, taking place from May 25 to June 20 with the best and most beloved in Teutonic cinema.
This year's opening night selection is the directorial debut of German star Daniel Brühl, who almost plays himself in a darkly comic story about a privileged actor ensnared by a mysterious stranger. Next Door premiered at the Berlinale and has been celebrated for its skewering of celebrity culture.
The festival's 2021 spotlight on legendary director Rainer Werner Fassbinder includes a screening of Enfant Terrible, a new biopic starring Oliver Masucci as the auteur himself. Fans can also see a glorious 4K restoration of Fassbinder's Lola on the 40th anniversary of its release; a seductive tale of an ambitious cabaret singer, screenings of the film will include special introductions to put the film in context.
A "slick new adaptation" of Alfred Döblin's 1929 novel Berlin Alexanderplatz has been chosen as the festival's closing night film, again reflecting Fassbinder's impact on German cinema (he adapted the book as a miniseries in 1980). Its story has been modernised to follow a West African migrant voyaging into Berlin's heart of darkness, descending into an underworld of crime. You can check out the neon-drenched trailer below, which promises to breathe new life into a text long considered one of the 20th centuries' greatest novels.
If you're into quirky rom-coms, the sci-fi inflected I'm Your Man stars Dan Stevens as the robot boyfriend of Maren Eggert's dreams. Director Maria Schrader also helmed the celebrated Netflix series Orthodox, and this unconventional love story from the future has already got some great reviews too. Check out a clip below, of the couple's bizarre first encounter.
There's also plenty of exciting options for families and young ones, like the hilariously-titled God You're Such A Prick (about a teen with cancer, escaping the hard truth about mortality via a family road trip) and Max and the Wild Bunch (in which a rowdy child finds unexpected friendship and mystery at a retirement home). The festival's Kino For Kids selection, presented by the Goethe Institute, is full of child-centric and coming-of-age classics that'll prove cinema is a universal language.
Finally, the festival's centrepiece feature comes directly from its world premiere at the 2021 Berlinale, a dashing and romantic story set amidst "the twilight hedonism of pre-Nazi Germany." Fabian: Going To The Dogs is based on an iconic Berlin-set novel from the 1930s, and select event screenings include specialty cocktails served at intermission.
Whatever flavour of German cinema you're seeking, there's sure to be something in the festival's full lineup that entices. Check out the official website for the German Film Festival to find tickets, at the cinemas near you listed below.
Sydney: 25 May – 13 June, Palace Norton, Chauvel Cinemas, Palace Central
Canberra: 26 May – 13 June, Palace Electric
Melbourne: 27 May – 13 June, Palace Balwyn, Palace Brighton Bay, Palace Cinema Como, The Kino, Pentridge Cinema and The Astor Theatre (selected sessions)
Brisbane: 1 – 20 June, Palace James St, Palace Barracks
Adelaide: 2 – 20 June, Palace Nova Eastend Cinemas, Palace Nova Prospect Cinemas
Perth: 3 – 20 June, Luna Leederville, Luna on SX & Palace Raine Square
Byron Bay: 4 – 20 June, Palace Byron Bay