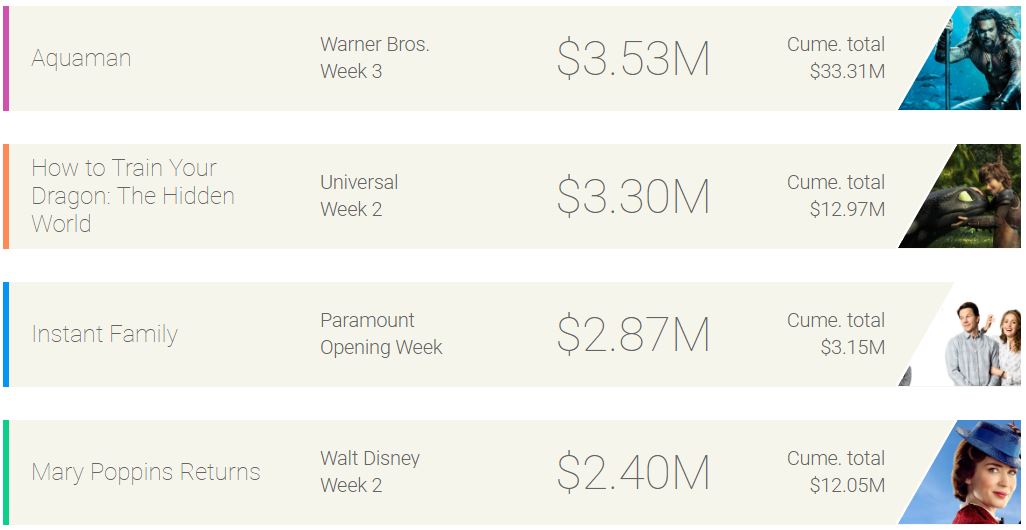 Aquaman is now a veritable box office juggernaut.
It was a close race, with How to Train Your Dragon 3 coming up trumps.

Here are the biggest Australian films at the box office in 2018.

How to Train Your Dragon: The Hidden World soared to the top spot in its first weekend

Aquaman took a whopping $16.18 million in earnings this week.

The Grinch earned $4.65 million on its third week of release, topping the box office charts.

 The Grinch is on top again for the third weekend in row.

That sneaky green fiend The Grinch is smiling from the top of the box office.

The Grinch has stolen the box office crown, sneaking up to number one in its second weekend

Boxing drama Creed II took the box office crown, grossing $3.91 million.

Rocky Balboa's protégé landed some mighty blows at the box office on the weekend.

Fantastic Beasts: The Crimes of Grindelwald waved its wand and earned another $5.45 million.
---