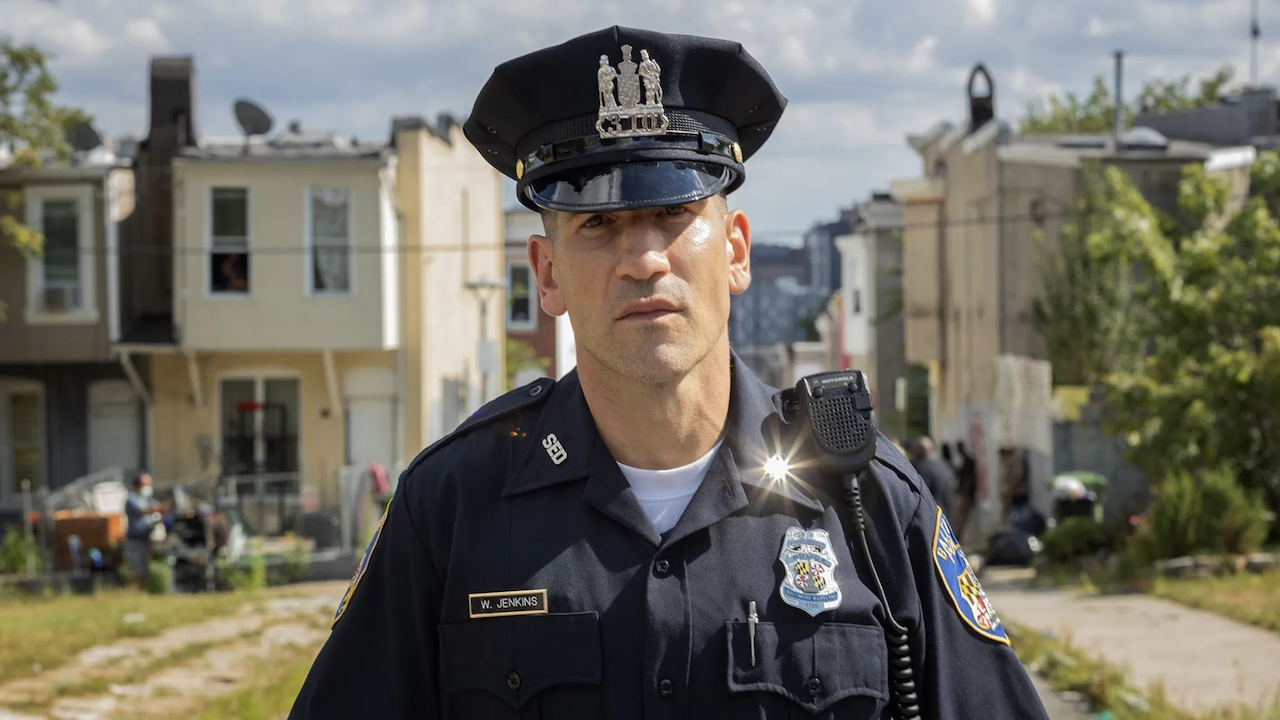 We Own This City isn't The Wire, but David Simon still owns Baltimore crime stories

---
In her review of the compelling cop drama We Own This City, Cat Woods sees criminals and corrupt police officers as ultimately the same people—even Jon Bernthal's malevolent Sergeant.
Throughout the 1980s, New York police scrawled "We Own The Night" on their squad cars, a brazen warning to the drug gangs that openly, boldly plied their trade night and day in the city. The slogan was, in honesty, not a confident exclamation but a hollow-toned, determined (and hopeful) warcry from a flailing force.
We Own The City, the newest drama series from The Wire creator David Simon, poses the question: who does own this city? Not those who wish they did or are foolish enough to insist upon it, it seems.
Simon established his skill for depicting morally questionable, but compelling men—emotionally and physically fractured to varying degrees—in Generation Kill, Treme, The Deuce and, of course, The Wire. From the Iraq war zone to Baltimore's dismal suburbia, Simon scattered his characters (mostly men with just a smattering of kick-ass women) into the bleakest of storylines, and subsequently rode the cultural zeitgeist into cult-like status.
Let's get the biggest question out of the way. Is We Own This City The Wire 2.0? No. How could it be, though? That series was an alchemical reaction—Dominic West (Jimmy McNulty), Michael Kenneth Williams (Omar Little), Andre Royo (Bubbles), Jamie Hector (Marlo Sanfield), Sonja Sohn (Kima Greggs), and Wendell Pierce (Bunk Moreland) were the phenomenal elements that—combined—formed something much greater than the sum of their parts. It was explosive, it was searing, it was an emotional tour de force.
Sign up for Flicks updates
We Own The City is a slower burn. While The Wire demanded your devotion from the first half hour of the pilot episode, viewers may approach this series like intrepid monogamists returning to the dating scene. Are we ready to have our hearts trodden on, our favourite characters brutally murdered or exploited by one another? Can we commit to the emotional investment that we expended on The Wire?
I write this assuming that you have seen The Wire, and not just seen it, but glued your eyes to the screen. I'm assuming you are a fan seeking either a replacement, or a continuation of where we left off.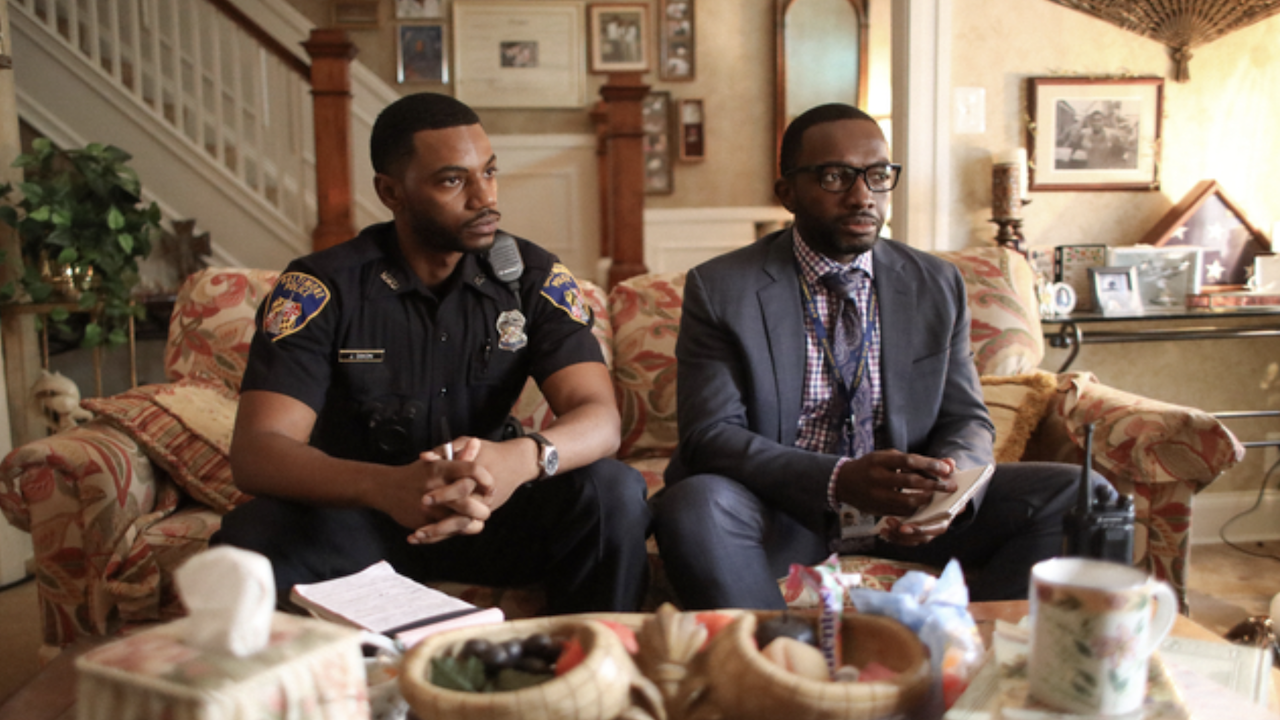 You will but you won't recognise characters from The Wire. Sometimes, the most heinous of Simon's previous gangsters shows up in We Own This City as a cop and there is a knowing wink and a nudge within this. Sometimes, cops from The Wire shop up here as dealing, wheeling cons. That they find it so easy to transition from uniformed public servants of peace to dope-dealing addicts is Simon's not-so-subtle reminder that not only are cops and dealers human, but they went to the same schools, grew up in the same neighbourhoods: they are—ultimately—the same people.
Simon's cops are deeply human in a way that the earnest, Teflon-coated cops of Law & Order are not. They are violent, they are jealous and manipulative, they are angry and armed. They don't strike out, then spend the rest of the episode apologising and making it right: they strike out, create mayhem, then go for a steak and fries. But they are also the only force we have to impose justice (and they do impose it rather than keep it), and there is ultimately a respect for the boys in blue.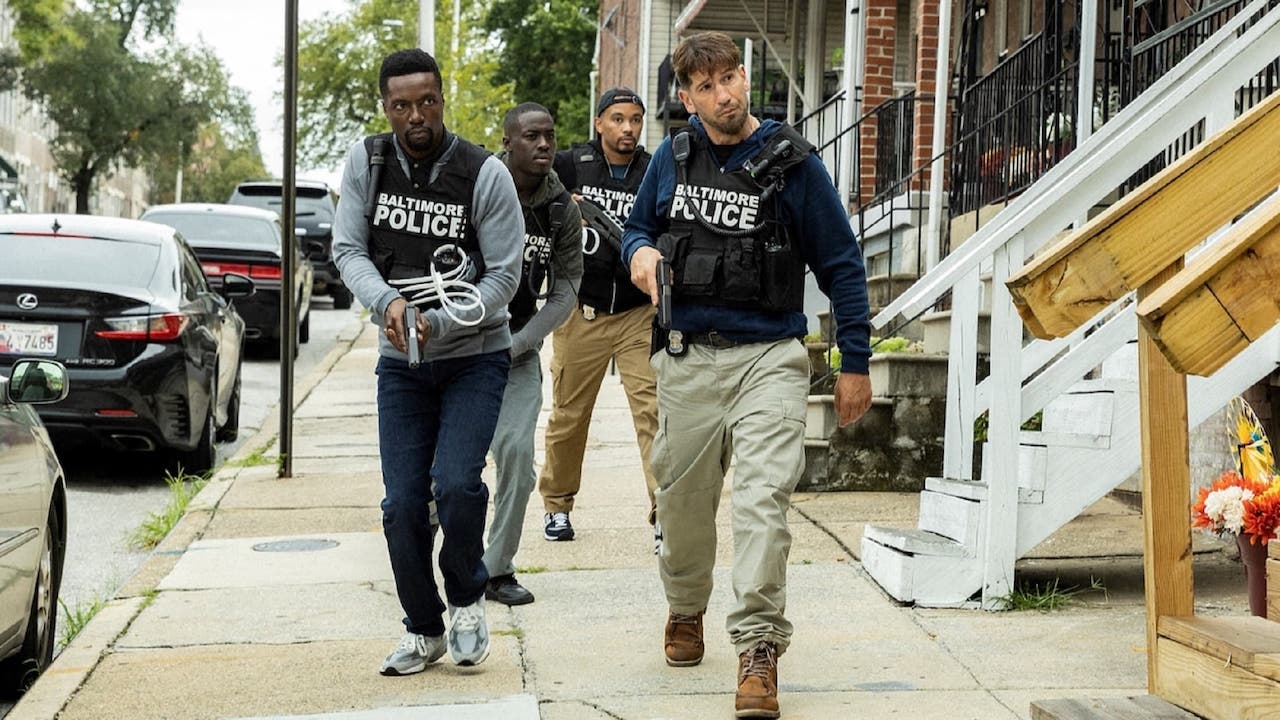 The series is rooted in factual events—the death of Freddie Gray in custody in 2015, as documented by Baltimore-based, Pulitzer Prize-winning author Justin Fenton in his 2021 book of the same name. Arriving in the wake of George Floyd's death and the countless, disproportionate deaths of Black Americans at the hands of police, this series feels both raw, tender and necessary.
Jon Bernthal (The Walking Dead, The Many Saints of Newark) as Sergeant Wayne Jenkins is a malevolent force. There is a constant frown etched deep into his brow and his steely jaw is clamped hard shut, when he's not trying to fire up his troops with lectures that ostensibly rail against violence as the solution, while simultaneously making a joke of illegal attacks on suspects (and how to later cover them up). The real-life Jenkins was jailed for 25 years for planting evidence, extortion and fraud.
The first couple of episodes of We Own This City deliver characters who are not easy to like, but impossible to despise. Simon's great skill is to sculpt characters you have to feel something for. They may not own the city, but they own their story as it unreels on screen.