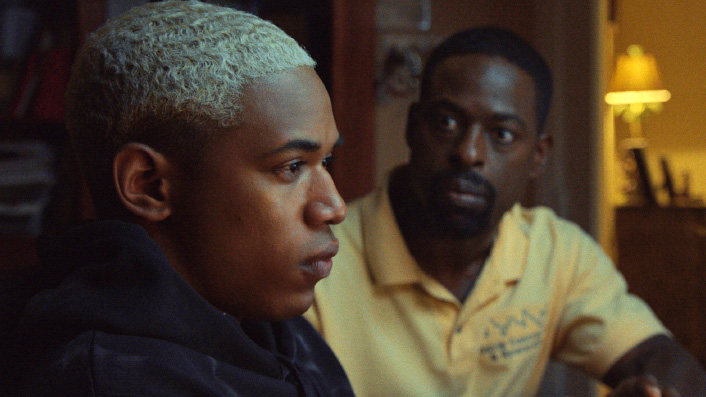 Waves is a visually intoxicating drama about a black American family

---
A family's emotional balance is fractured by tragedy in the audacious American drama Waves, which is now screening in select cinemas across the country (other than Victoria, due to coronavirus restrictions). Here's Craig Mathieson's review.

With its vivid colour palette, restless camera, and heady teenage exaltation, Waves is a visually intoxicating movie that keeps redefining what it is for a work of art to be both illuminating and overwhelming. On the screen American independent filmmaker Trey Edward Shults makes pleasure buoyant, stress shattering, failings terrifying, and redemption moving. It is an ambitious film, even audacious in parts, but it never loses track of the family it's focused on and what they represent to each other in intimate and often difficult terms.
Sign up for Flicks updates
At the age of 18 Tyler Williams (Kelvin Harrison Jr) has a life so outwardly successful that he can't see the crushing demands that come with it. The popular Miami high school student is a star of the wrestling team and has a girlfriend, Alexis (Alexa Demie), who comes up as 'Goddess' on his phone. His family is black and affluent, a safety net created by his martinet father, Ronald (Sterling K. Brown), and stepmother, Catherine (Renee Elise Goldsberry). "We are not afforded the luxury of being average," Ronald forcefully reminds Tyler, who carries a heavier familial burden than his younger sister, Emily (Taylor Russell).
Father and son work out together, flexing in the mirror after sharing exhortations. But the muscle on Tyler's frame suggests a maturity he's lacking emotionally. With the best of intentions he struggles with pressure and is unable to confront setbacks—a nagging shoulder injury that requires surgery is instead surreptitiously treated with purloined painkillers. As writer and director, Shults is exceptionally good at letting this at close quarters tale dip into contemporary issues, whether it's opioid abuse, abortion, or police racism. There are some heavy-handed moments, but the narrative never mistakes personal pain for a soapbox.
Shults' previous feature, 2017's It Comes at Night, was an allusive horror film set amidst an apocalyptic pandemic; starkly grim and malignantly quiet. Here the end of the world is an individual arc, which builds like a racing pulse that feels cued to the static that intermittently overwhelms the beats in the score by Trent Reznor and Atticus Ross. Shults' technique alternately invokes the desperate excess of Gasper Noe and the tender contemplation of Barry Jenkins, intertwining in ways that get at the vertiginous highs and lows of being 18-years-old.
When the story peaks it doesn't just subside into loss, there's a transference that moves the focus to Emily; the deep, clenching breathes become a long, jagged exhalation. Becoming awkwardly involved with another student, Luke (a buzz cut Lucas Hedges), she finds that nurturing another person is healing for her, although the film also subtly notes that it is the emotional labour of women that has to rectify the shortfall of the men close to them. The switch between siblings also speaks to one of Waves' strengths: the performances are not just uniformly strong, they repeatedly fit together in deeply complementary pairs.