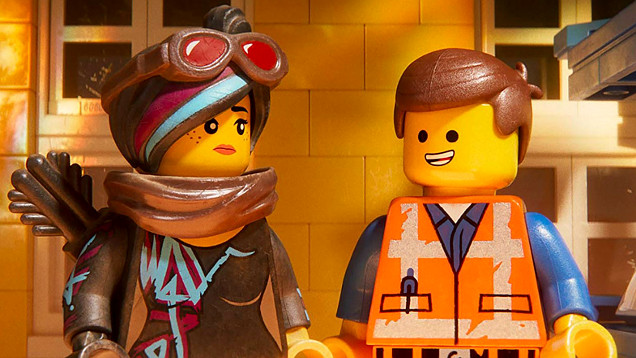 The Lego Movie 2 builds a playful, passable sequel out of familiar parts

---
The Lego Movie 2 is based in a troubled world where everything is no longer awesome. It's a fun film but it has the air of 'been there done that', writes critic Sarah Ward. 
Building a pile of multi-coloured CGI bricks into one of the great all-ages comedies of recent years, The Lego Movie was the toy-to-film adaptation that could. While other product-based premises floundered with offering anything more than an overblown advertisement (see the pre-Bumblebee Transformers franchise, for example), The Lego Movie could turn its plastic construction playthings into a charming feature with its own flavour. As mainstream animation began to suffer from stylistic homogeneity, it could stand out visually. Embracing the rectangular objects at its centre in more than just a superficial, merchandise-slinging way, it could also smartly and savvily engage with Lego's very purpose. Indeed, where all of the above points are concerned, it could and it did.
Revealing its storyline to be the product of a child's play session, the 2014 film also set itself up for a sequel. With the movie's adventurous antics originating in one kid's imagination, building upon that idea is both clever and obvious: what if the pre-teen Finn's (Jadon Sand) invented domain came under attack from his younger sister Bianca's (Brooklynn Prince) differing vision? That's the scenario at the heart of The Lego Movie 2: The Second Part, as the former still plays with his bricks — and his mini-figure hero, Emmet Brickowski (voiced by Chris Pratt), navigates the resulting world — while the latter breaks out her Duplo. Two siblings construct their own worlds within the same household, and Emmett and his pals weather the fallout.
As seen in The Lego Movie's final moments, the city of Bricksburg isn't prepared for the arrival of Duplo's bigger blocks, which it dubs alien invaders. Five years later, gone is the upbeat realm where everything was awesome. In its place, after ongoing battles with the towering newcomers, is Mad Max-esque dystopian wasteland Apocalypseburg. Emmet still believes in his pop song mantra, although there's a little less pep in the tune's beat, and in his step too. His best friend Lucy, also known as Wyldstyle (Elizabeth Banks), can't understand his prevailing optimism – and when the mysterious General Mayhem (Stephanie Beatriz) arrives to bridge the two worlds, whisking Batman (Will Arnett), Princess Unikitty (Alison Brie), pirate Metalbeard (Nick Offerman) and the space-obsessed Benny (Charlie Day) to the pastel-hued, glitter-filled kingdom of Queen Watevra Wa-Nabi (Tiffany Haddish), Lucy is suspicious.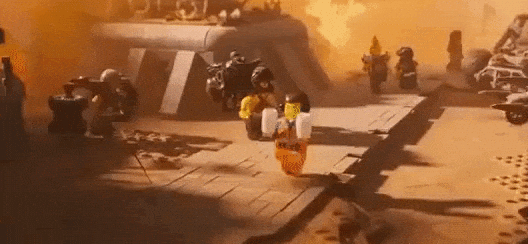 With its underlying conceit laid bare in the first film, this Lego franchise follow-up lacks any surprises in joining its flesh-and-blood and plastic universes. Though framed with a near-otherworldly sheen, frequent glimpses into Finn and Bianca's home cement the connection with Emmet and Lucy's plight – and with Watevra Wa-Nabi's playground dubbed the Systar System, and the characters' existential threat springing from Our-Mom-Ageddon (aka the possibly of messy playthings being packed away), The Lego Movie 2 isn't hiding its seams.
As a result, there's not just a been-there, done-that air this time around, but more of a sales pitch: a wider range of Lego to ogle, and an overarching statement about getting along by buying and playing with more, too. Indeed, what this sequel truly lacks is the benefits of its predecessor's main lesson. The Lego Movie championed the power of eschewing formula in favour of creativity and illustrated its message in action. The Lego Movie 2 happily sticks with the familiar, and squanders its most interesting potential for commentary (about the gendered traits and attitudes that colour children's toys, as well as the stories that spring up around them).
Sign up for Flicks updates
A change of director can explain some of The Lego Movie 2's differences, with Phil Lord and Christopher Miller (21 Jump Street and 22 Jump Street) handing over the helming reigns to Trolls' Mike Mitchell. The original duo remain as writers, and their love of joke-a-minute, pop culture-referencing dialogue remains with them, but by bringing in a filmmaker best known for another toy-to-movie success, this second effort almost instantly becomes more generic. With the general narrative parameters already known, what emerges is a busy rush of a film, as if Mitchell can't wait to throw away one scene's Lego pieces and pick up the next. That vibe might mirror an impatient child's easily distracted mind, yet the parallel is hardly intentional. Now four features into a Lego movie universe that also includes 2017's The Lego Batman Movie and The Lego Ninjago Movie, The Lego Movie 2 proceeds as if more is inherently more, without the substance to solidify its claim.
That's not to say that The Lego Movie 2 isn't fun — just that it's simply the sum of its bricks and nothing more. They're vibrantly animated bricks once again, given the look, texture and movement of real pieces of plastic; however the delights found in animation director Trisha Gum's imagery can't carry the entire film. Nor can the trademark Lord and Miller irreverence, as much as the duo might hope. When the movie is throwing in left-field cameos and scene-stealing bit-playthings, dropping witty one-liners and cultural nods, and riffing on Pratt's live-action career via the inclusion of Emmet's tougher, cooler, space-saving, dinosaur-commanding pal Rex Dangervest (also voiced by Pratt), it's as engaging as it's engineered to be. When it's merely milking meta laughs about franchises and follow-ups, or feeling like it's throwing more toys into its threadbare patches, it's far less convincing.
Perhaps The Lego Movie's fate is best embodied by its tunes, which pop up more often, including in big musical-style numbers. 'Catchy Song' will indeed get stuck inside your head as its lyrics announce, but it also slips out again rather quickly – another unwitting metaphor for a movie that can be enjoyable enough while it's playing, but doesn't leave the imprint it wants to. Instead, the best track and most of the film's best laughs come over the end credits, thanks to Beck, Robyn and The Lonely Island's skewering of end credits in 'Super Cool'. When Andy Samberg's distinctive voice proclaims, "it's the credits, yeah they're the best part", he's proven accurate far too swiftly.