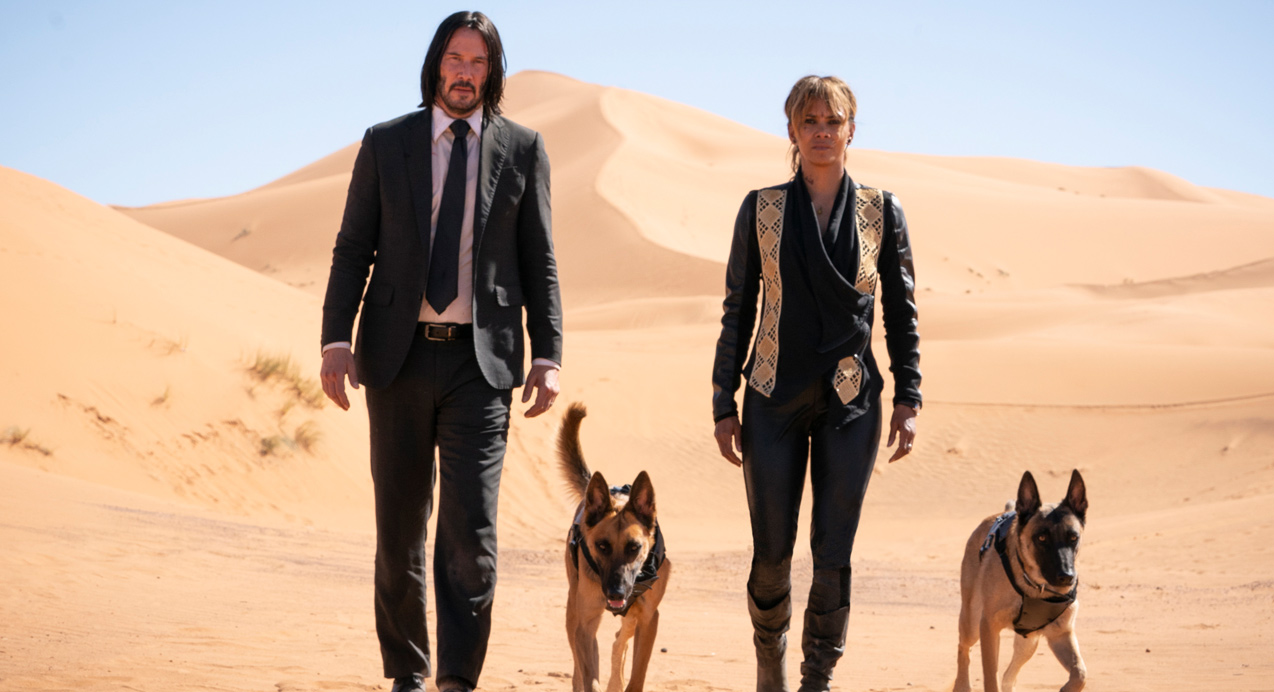 The body count goes through the roof in the bloody and ornate John Wick 3

---
The body count only gets bigger as Keanu Reeves' aggrieved assassin continues to kill all who come at him. What a strange, unexpected franchise these action movies have become, writes critic Craig Mathieson.
At this point, why would anyone try to kill John Wick? The stoic contract killer in the black suit and blacker mood is not so much a killing machine as an entire assembly line for dead bodies; he gives the grim reaper a quiet day at the office. But still they come: armed goons, samurai squads, overly confident fellow assassins, and armoured soldiers all go up against Keanu Reeves' latest signature character, only to get a blade to the chest or a close range bullet to the head. The latter's exploding smear of brain matter is a punctuation to the futility of trying to stop Wick. It's no wonder that in the third instalment several hopefuls pause to offer greetings and praise before the fighting commences: they're willing sacrifices to his death cult.
In 2014's John Wick, a B-movie that recognised a decent master shot was the missing piece in contemporary action cinema, Wick was a retired widower whose vast grief flipped into vengeance when ill-advised thugs killed his beloved puppy. The concept was blackly comical and strangely resonant – it spoke to the stylish extremes of the noir crime lineage, such as Jean-Pierre Melville's Le Samourai and John Woo's The Killer. Implicit was the idea that Wick found satisfaction and purpose in the brutal dismantling of a Russian crime family, but his motivation is more harried – and less telling – now. Both John Wick: Chapter 2 and now Chapter 3 are survival struggles, staged back to back in the same few days, where the main goal is to better the next adversary.
The baroque architecture of the criminal underworld, with its counsels, detailed rules, and punk rock administrators, sits in the background, allowing veteran actors such as Ian McShane and Laurence Fishburne to indulge their screen personas, but Reeves himself refuses to flesh out his performance. He is, wherever possible, a physical force without psychological imperatives. There are flickers of determination and moments of exhausted disdain, but whether killing his opponents or asking former allies for help, Reeves is so self-contained that somewhere Lee Marvin is offering a slow clap of acknowledgement.
Sign up for Flicks updates
If we believe that John Wick can't be stopped, perhaps we wonder if Keanu Reeves can be. The actor is 54-years-old, and making these movies is obviously an act of physical endurance. He grapples more now and kicks less, protected at the centre of fight choreography that is both bloody and ornate. Returning director Chad Stahelski moves the camera and character through contained spaces, leaving a trail of corpses. The variations on this theme begin at the comical, with Wick fighting a giant former acquaintance in a library (a throwback to Roger Moore-era 007), and take in an epic, slapstick-tinged, knife-throwing battle and Wick on a horse being pursued by murderers on motorbikes. By the multi-boss level finale the momentum stalls.
Halle Berry supplies a graceful interlude as a former associate whose debt Wick calls in, resulting in a shared slaughter in Casablanca. One of the things that's noticeably absent from this film is youth. John and his storied colleagues are all ageing, cogs in a machine that won't let them go. Behind the glass screens and LED walls that provide a vivid contrast to the decaying pools of light that light the nocturnal locales, there's a belated condemnation of power structures.
"I have served. I will be of service," is the mantra of fealty that Wick and others offer up, but the obvious outcome is that you will be served up. The direction the series is heading into is that of John Wick as a liberating force, destroying the corrupt and calcified underworld. But it's hard to imagine him as a freedom fighter when he's already chained to his own murderous talents. There's no way out for John Wick, or the audience.