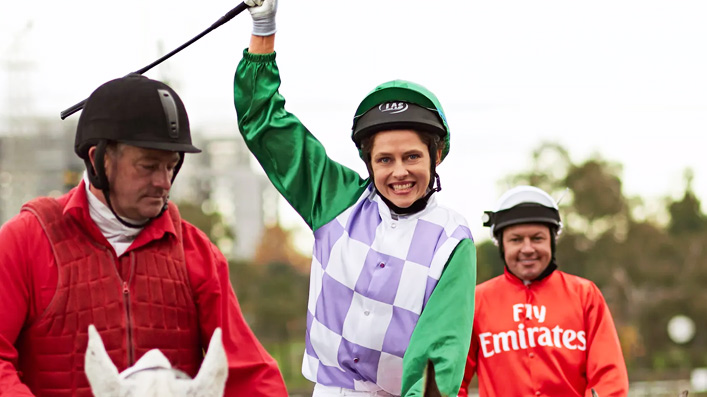 Ride Like a Girl is an uplifting sports movie with a heart as big as Phar Lap's

---
This crowd-pleasing biopic about Australian jockey Michelle Payne might be sentimental and glossy, but it's still a rousing good time.

You'd have to be a particularly hard-hearted specimen not to get caught up in this stirring cinematic treatment of the life and career of jockey Michelle Payne (Teresa Palmer), who was first past the post at the 2015 Melbourne Cup, becoming the first woman ever to win Australia's most prestigious horse race. It's got the lot: winning performances, sterling racing photography, an underdog-against-the-odds plot seemingly custom-built for four quadrant Aussie appeal, and a heart, to deploy an irresistible turn of phrase, as big as Phar Lap's.
What it doesn't have is a lot of complexity, but that's okay. The controversies of the horse racing industry were never going to be a point of focus in a film endorsed by the Payne family (and starring one member thereof) and produced under a sponsorship arrangement with Racing Victoria and TabCorp. Perhaps that means Ride Like a Girl is printing the legend a little and presenting a very glossy and stage-managed version of what can be a grim and often cruel industry, but even saying that feels like it's undercutting Payne's achievements, and they are legion. So, let's accentuate the positive.
Born the youngest of 10 kids to racing icon Paddy Payne (played with avuncular charm by Sam Neill), the film follows Payne almost from birth to her eventual triumph at the Cup. It takes in an intimidating raft of setbacks and obstacles: being raised in a huge, single parent family (mother Mary Payne died when Michelle was six months old); enduring endemic misogyny in the racing industry as she moves up the ranks; dealing with the death of her older sister and fellow jockey, Brigid (Anneliese Apps); recovering from her own devastating injuries after a spill on the track; and, of course, the climactic 2015 Cup race itself.
As presented by screenwriters Andrew Knight and Elise McCredie and director Rachel Griffiths, Payne's life story hits a lot of familiar beats. If you're feeling cynical you might call it rote, but there are elements in play that elevate the material.
Chief among them is a gutsy, charismatic performance from Palmer, in whose hands the onscreen Michelle meets every challenge with a marked lack of self-pity and a magnetic just-try-and-stop-me attitude. As an actor, Palmer doesn't seem to get the praise she deserves; here she's been given a perfect showcase for her talents, excelling in both the film's big, fist-pumping moments and the quieter, more introspective scenes. Note the sequence in which Michelle, desperate to get her weight down for an important race, puts herself through hell in order to shed every spare ounce of mass – that scene, more than anything else, tells the tale here.
Sign up for Flicks updates
Then there are moments she shares with Michelle's brother and strapper Stevie, who has Down's Syndrome. Stevie plays himself here, and the scenes between the two evoke a tenderness, affection, and empathy that is palpable through the screen.
Actor turned director Griffiths keeps a sure hand on the tiller, displaying both an eye for small, telling emotion, and an impressive facility for mounting big crowd-pleasing moments. If nothing else, wringing tension out of a race where everyone in the audience already knows the outcome is some kind of achievement, and in Griffiths hands the 2015 Melbourne Cup is heart-in-mouth stuff.
According to some pundits Ride Like a Girl's cardinal sin is that it's playing to the cheap seats: all big emotion, big moments, big setbacks, big wins. But Griffiths and her team find little spaces in and around those showcase beats, little moments of humanity and nuance, and make sure they're not overwhelmed by the sweep and surge of the film's big movements. Is it sentimental? Sure. Is it saccharine? I wouldn't go that far. Is it a rousing good time? Undeniably, yes.