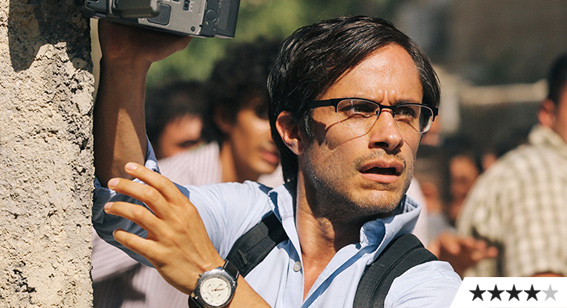 ---
Rarely does it makes sense to make a biopic about a life while incidents are still in play and the dust is still settling from crucial events. Without the objectivity of time, such films can feel myopic, biased or unfinished. Rosewater is one of those scarce occasions where it was right to strike while the iron was hot.
In 2009 Iranian-Canadian journalist Maziar Bahari returned to Iran to cover the elections for Newsweek magazine. He was ultimately arrested and imprisoned for more than three months on accusations of espionage.
The film Rosewater, which derives its title from the scent worn by his prison specialist (read: torturer) starts with his arrest before working back to give the context in a first act that feels like a natural companion piece to Argo.
The film then shifts gear to explore Bahari's experience in prison. The techniques used to elicit a televised confession from him, to try and break him and his own methods for retaining his sanity and composure.
Mexican actor Gael Garcia Bernal is superb as Bahari, while departing Daily Show host Jon Stewart delivers a surprisingly subtle and deftly nuanced movie in his directorial debut, based on his own script. There is no melodrama or arch villainy from the Iranian overlords. The tale is kept small and shines for this reason.
That said, despite its fine execution, in some ways there is little that is cinematically new in Rosewater. That is why the timing is crucial, and Rosewater is a near perfect movie for its time.