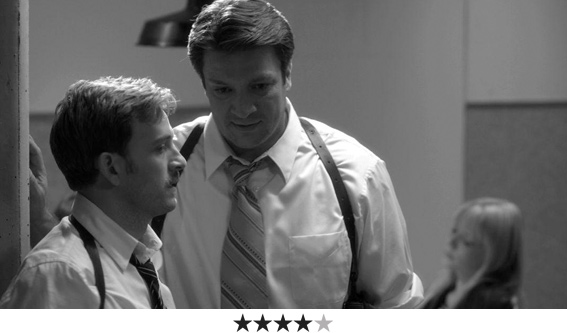 Review: Much Ado About Nothing
---
Much Ado has been done on the small screen several times, and cinema audiences were treated to a memorable traditional version with Kenneth Branagh and Emma Thompson in 1993. But none are as cool as this. Joss Whedon's contemporary take on Shakespeare's classic comedy, shot in black and white with a sexy vintage wardrobe, has a wit and style you won't find in his kick-ass work for Buffy the Vampire Slayer, Firefly or The Avengers.
Not content to unwind in the weekends between filming and editing the latter, Whedon shot this in his own home with some actor mates. If that sounds casual, that's because it is – but the stars' American accents and breezy delivery give the film an immediate likeability and irreverence it wouldn't have otherwise.
The scheming and match-making revolves around Beatrice (Amy Acker) and Benedick (Alexis Denisof), and the actors have great chemistry, playing up the laughs without a shred of pomp. A couple of scenes rely too heavily on slapstick, and there are times when the limits of the setting start to feel claustrophobic. But Whedon has fun with it, incorporating creative visual gags: stuffed toys in a kids' bedroom, a scuba-diver in a swimming pool, the baddies smoking a joint, adding a touch of whimsy and absurdity to proceedings.
The casting is also left-field, with Castle's Nathan Fillion hamming it up as the arrogant, ignorant Dogberry, and Nico-like theatre star Riki Lindhome in the role of Conrade. Ardent fans of the Bard may not appreciate the liberties taken, but if this relaxed version makes the great man's work less intimidating, that's got to be a good thing.