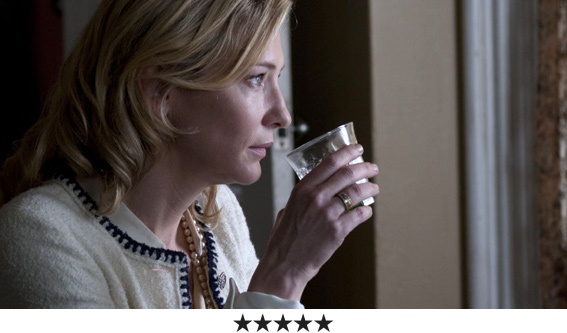 ---
"I fell in love with the name Jasmine," declares Alec Baldwin's Hal at a glittery Park Avenue dinner party. Jasmine (Cate Blanchett), whose real name is actually Jeanette, is the ultimate wisteria girl, a beautiful social climber who has fashioned herself into a diamond-dripping society wife. Her name isn't the only fabrication. Hal's fortune is built on lies and crumbles Bernie Madoff-style into ruin, leaving Hal in jail and Jasmine in hell, seeking shelter in San Francisco with her grocery-packer adopted sister (Sally Hawkins).
This is Woody Allen in peak form. He has stripped out that jabbering New York paranoia and gleefully poked a big stick at America's ruling class. That doesn't mean the working class characters escape unscathed. They're all in Jasmine's big mess together.
Blanchett as snobby Jasmine – a role that clearly takes cues from Tennessee Williams' Blanche DuBois – holds on to her Chanel and Hermès as tightly as she grips the vodka bottle. Even when at her most despicable and broken she looks amazing and triumphs at making cruel, selfish Jasmine impossible to hate. You can't help sympathise as you watch the seeds of mental illness and drug dependency take root. It's an extraordinarily layered performance – no wonder Oscar rumours are swarming already. (And I'll never look at the yabbering ladies roaming Ponsonby Rd the same way again.)
The film's success is not all credit to Blanchett. There's great support from the rest of the cast. Special mentions: Peter Sasgaard who does slithery so well and '80s comedian Andrew Dice Clay making the best acting comeback since Travolta in Pulp Fiction. Allen's beloved New York still features splendidly in periodic flashbacks that unpick Jasmine's downfall – just how much she knew about hubby's fraudulent activities is the central question. Escaping to working class San Francisco doesn't stop the rot in her life and while Allen's trademark fast-talking humour is entertainingly intact, it's the darker tone underpinning this film that sets it apart and lingers long after leaving the cinema.