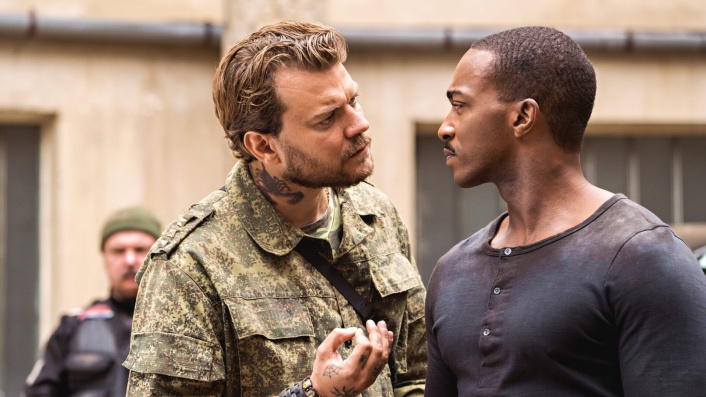 Outside the Wire struggles to reach pleasurable B-movie status

---
Netflix's latest Original Movie is the action sci-fi Outside the Wire, in which a drone pilot in the near-future teams up with an android. Here's critic Craig Mathieson's review.

Part of the pleasure of a good B-movie is how it puts together familiar elements and unexpected influences to create a fresh variant. Whether they're slyly intertwined or slammed together to make sparks, the pieces need to reach cinematic alchemy.
The latest Netflix original, Mikael Hafstrom's Outside the Wire, gets halfway there. Set in 2036, it touches on artificial intelligence, America's military-industrial complex, the reality of war, the blood splatter from close range shootings and the gravity created by a charismatic star. It's not that these disparate pieces don't gel, rather that none serves as an accelerant for another. If anything, the movie is a touch pedestrian.
First seen piloting a drone fighter over a U.S. peacekeeping mission in Eastern Europe, Lieutenant Thomas Harp (Damson Idris) only knows war via a screen. When he contravenes a direct order, the calculating American soldier is sent for field duty at the U.S. Army base he previously overflew; his macro view is rendered micro.
Harp is assigned to Captain Leo (Anthony Mackie), a secret "biotech" android far more advanced than the robot soldiers—amusingly called "Gumps"—who serve alongside the American ground troops. Leo is in turn cold, charismatic, and persuasive; by the time he's manipulating Harp during a car ride you might think you're watching a remake of Training Day.
With Leo more autonomous than automated, the mismatched duo are meant to be tracking down a warlord, Victor Koval (Pilou Asbaek, on villain autopilot) through a warzone of Russia-backed separatist and Ukrainian militias. Harp sees up close the damage his missiles do, realising that he may have been more of a machine than Leo, whose machinations are one step ahead. Swedish filmmaker Hafstrom, who has been up and down in Hollywood with the likes of Derailed, 1408, and Escape Plan, alternates between two branches of action etiquette.
The first is Leo as lithe Terminator, shot tightly but thankfully not over-edited as he deals with one up close adversary after another. The second are pitched battles, complete with Gumps, which are driven by firepower and are (possibly deliberately) bleakly destructive.
Usually one of Luc Besson's boys gets a gig such as this—a Megaton or a Leterrier—and they look to induce adrenaline. Hafstrom looks to the drama of responsibility, although that grows more contrived as the motivations are revealed and a spot of Bad Boys gunplay and impudence gets a look in. Captain America sidekick Mackie can prosper in any of these dimensions, but Outside the Wire can't build to an appreciable pitch—the higher the stakes are raised, the less engaging the result.
Netflix hit big with a bloody B-movie last year thanks to the Chris Hemsworth-fronted Extraction, which was ludicrous but self-aware. With its piecemeal ambitions, Outside the Wire struggles to make a similar connection.