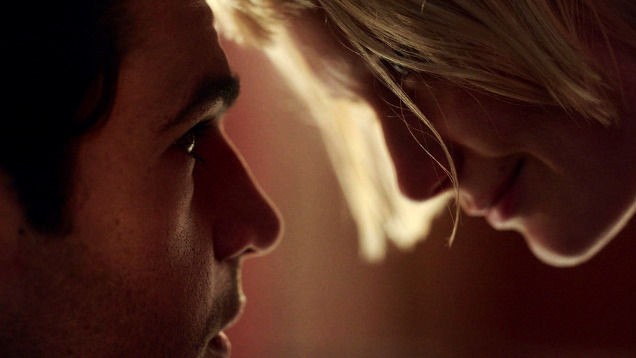 Mia Wasikowska shatters expectations in the slick psychosexual thriller Piercing

---
Writer/director Nicolas Pesce's slick adaptation of a cult novel shows that he's a filmmaker on the rise, says Sarah Ward.
The horror genre has been kind to first-time filmmakers. Excellent, even. And with 2016's The Eyes of My Mother, it was more than welcoming to writer/director Nicolas Pesce. The New York-born helmer's debut played with two of the oldest scenarios in the book: a stranger arrives at an isolated property, and a child witnesses something that no kid ever should. But, as lensed in crisp black and white and made in Portuguese, his enticing effort drew viewers into a tale that decisively went its own way – one that twisted familiar elements into something distinctive and unexpected.
For his second film, Pesce achieves the same feat. He follows in his own footsteps, but only as far as diving deep into his chosen genre, trifling with recognisable components and shaping them into a wholly different beast. Piercing boasts little else overtly in common with its predecessor, other than demonstrating the verve and assurance of its maker. A visually slick affair painted with seductive gem colours, soundtracked by swooning tunes, and using both a '70s aesthetic and the era's giallo movies as a starting point, this is a psychosexual thriller laced with black comedy that happily splashes about its own mood, style and story right from the outset.
Piercing commences with the image of a man standing over his newborn with an ice pick. Malaise bordering on exasperation screams silently from his eyes, and when the infant says "you know what we have to do, right?" in a voice that definitely doesn't actually belong to the baby, his fraying mental state seems apparent. So Reed (Christopher Abbott) swiftly makes an excuse to leave his wife (Laia Costa) and daughter – just for a brief fake business trip – to alleviate his stress. Next he's checking into a sleek hotel, booking sex worker Jackie (Mia Wasikowska) for the night and planning to indulge his murderous impulses.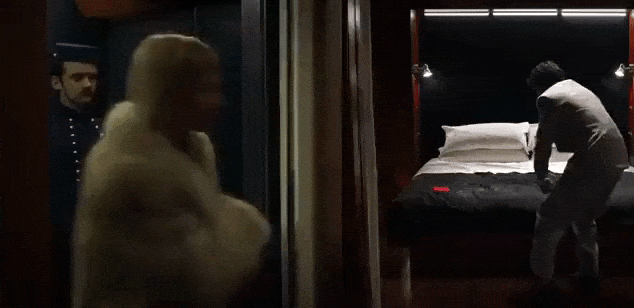 Adapting the novel of the same name by Ryū Murakami, Pesce is meticulous in establishing the film's initial premise. He's just as precise in establishing the movie's alluring and mischievous tone, as well as a rich look always proves vivid in Piercing's array of calculating close-ups. It's an exactitude that the visibly nervous Reed mirrors – arranging his killing tools on his hotel bed, practicing his opening patter about S&M to an empty room and miming going through with his grisly task. The filmmaker and his protagonist share another commonality: they're laying foundations only to destroy them.
While the script's contortions are best discovered by watching, and some are less necessary than the film thinks, at the core of Piercing sits a pair of strangers caught between two extremes. The lines between attacker and victim are far from solid here, in what soon becomes a cat-and-mouse game driven by testing boundaries both willingly and not so. Pesce toys with the nature of desire, its kinks and limits, and its motivations and consequences, while also toying with the power of connection. Are the feature's central duo two tortured bodies exorcising their demons, two suffering loners easily and happily preyed upon, or two yearning souls searching for something that's missing in their lives? Actually, they're all three.
Sign up for Flicks updates
As her growing resume continues to show – including 2018's offbeat western Damsel – you don't enlist Wasikowska to play a mere casualty. While casting can often give much away, foreshadowing that a seemingly small or submissive part will prove otherwise, the Australian actor excels in shattering expectations. There's a thorny, enigmatic boldness to her Jackie that instantly sits at odds with Abbott's Reed, with the latter the picture of internalised conflict. That said, neither portrayal can be neatly categorised, in another example of Piercing's refusal to colour within the lines.
What the film possesses in flair, however, it doesn't always counter with the requisite flesh. As explored so commandingly in Phantom Thread just last year, the notion that complicated urges linger beneath everyday facades, and that the divide between pleasure and pain is thin, is far from uncharted territory. Still, Piercing makes its playful, intoxicating frames pop and crackle with a magnetism that few movies muster. Now two for two, Pesce is a filmmaker on the rise. Whether that'll continue in his next effort – a second American remake of Japan's Ju-on: The Grudge series, simply entitled Grudge – will be revealed mid this year.