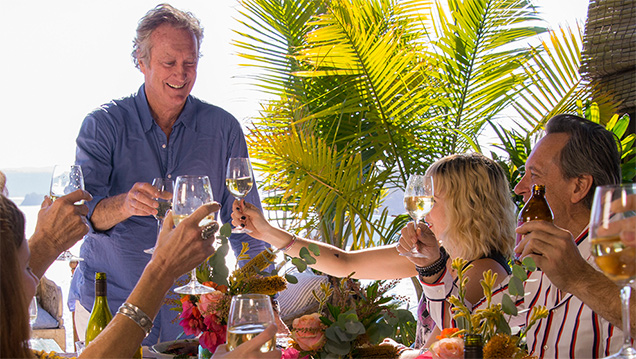 In the Australian drama Palm Beach, the stakes are so low it's hard to care

---
A group of wealthy old friends reunite in the Australian drama Palm Beach, which was the opening night film of this year's Sydney Film Festival. The actors are impressive but the stakes are so low it's hard to care, writes Glenn Dunks.
In 1980, Aussie icon Albie Thoms made Palm Beach. That film, a rollicking criss-crossing divergence of stories involving surfies and drug dealers around the popular NSW destination of its name, was an early starring role for Bryan Brown and a strong example of low-budget, independent Australian filmmaking. Thoms, an icon of local experimental cinema, received an AFI (what is now AACTA) nomination for his original screenplay, but like many Australian films of the period it has been consigned to the fading memory of history without even a DVD release.
Nearly 40 years later and Brown has returned to Palm Beach, but boy things have changed. In Rachel Ward's film of the same name – not related to that earlier film at all – Brown stars as Frank, one part of a '70s rock group called The Pacific Sideburns who scored big as one-hit-wonders with bandmates Leo (Sam Neill) and Billy (Richard E. Grant, fresh off of his Oscar nomination for Can You Ever Forgive Me?). Their female vocalist has since passed away, but her daughter (Claire Van Der Boom) is a heavy fixture in their lives.
They all come together along with their wives (Gretta Scacchi, Jacqueline McKenzie and Heather Mitchell) and children to celebrate Frank's birthday. Put up in the swank Palm Beach house owned by Frank and Charlotte with a view to die for, personal secrets and failures will be revealed, past traumas will bubble back to the surface, and arguments will unfold in $600 silk dressing gowns.
Palm Beach is a stiff 180 swerve from Rachel Ward, whose last film was the intense and bruising family abuse drama Beautiful Kate in 2009. After since working mostly in television as both actor and director, Ward's return to the movies is a curious beast. Palm Beach is lightweight fare that is so far off on another planet of relevancy to most Australians' lives that it is hard to not come off as little more than an indulgent tax deduction. A nostalgia trip for some of this country's finest actors (and Richard E Grant) where one of the big narrative hooks involves the building of an outdoor pizza oven.
This is probably the whitest movie you will see all year. Much was made at the Sydney Film Festival's opening night gala that 43% of all films screening at directed or co-directed by women – a stat worthy of celebration – but that diversity shouldn't just stop with who sits in the director's chair. Everything here is far, far removed from the troubles of most people in the world. Even the one character who admits to having fallen on hard times is nonetheless married to a seemingly very famous actress who's up for a role as Nicole Kidman's mother. These are people who get lengthy fireworks displays for their birthday and get flown in on seaplanes.
The actors are all very good, with Scacchi, Neill, Mitchell and the young Charlie Vickers as Frank's quiet black sheep son standing out. This is an extremely talented cast and when the script allows them to dig into topics such as aging, pride and sex, they all knock it out of the park. Scacchi and Neill in particular have a moment of quiet tenderness in a hammock, but it's over in a flash. It's a shame that too much of the film is left to inane narrative diversions, like when Frank becomes a vengeful NIMBY brute. Good films can be made out of people like this, but the stakes are so low key that it's hard to care.
Sign up for Flicks updates
Palm Beach is a breezy experience thanks in no small part to the efforts of production designer Melinda Doring, whose Nancy Meyers-esque efforts with the central setting will likely have you seething with jealousy (when you're not in awe at the view captured by cinematographer Bonnie Elliott). To be sure, if, as Albie Thoms suggested in 1980, all roads lead to Palm Beach, then you better have an annual salary of at least $250,000 or else you're going to feel destitute by the end of this movie.
It's unfortunate that Ward's film is so completely unmoored from any sense of reality that isn't her own – we're asked to laugh at a cab driver getting stiffed; the only moment anybody who isn't rich gets a line of dialogue – because with this many talented people in a room it should have been so easy to build a movie that says something about our fleeting time here on earth. Instead we get characters who sold their business for millions and are now bored and on anti-depressants. Where drama is resolved by text message, and it takes a near-tragedy for everybody to realize they love each other. Its lasting memory may very well be the original song "Fearless", written by Australian Crawl's James Reyne, that perfectly evokes the 1970s Aussie rock scene. We finally hear it played over the final scene after being teased to us throughout.
When you're this well off, does happily ever after even matter? Palm Beach is not the film to interrogate that. Or much of anything else, for that matter.