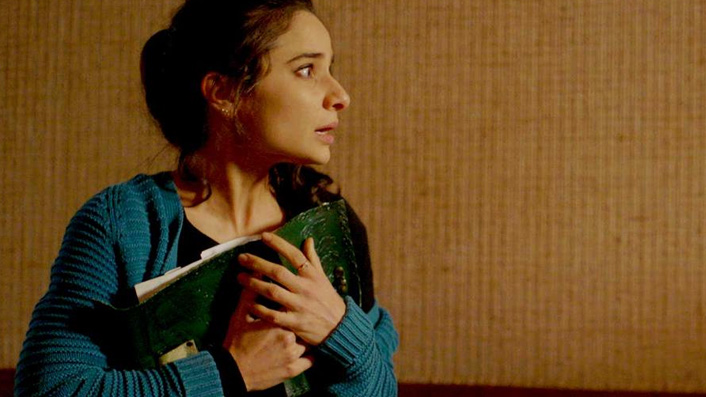 Horror anthology Dark Whispers is a vibrant showcase of female Australian filmmakers

---
Eleven female directors tell spooky stories in the Australian anthology Dark Whispers: Volume 1., which highlights a breadth of voices. Here's critic Sarah Ward's review.

Sinking its teeth into vampire tales, ghost encounters, mermaid stories and more, Dark Whispers: Volume 1 isn't Australia's debut horror anthology, or the only one in recent years. However, slotting in alongside Bedevil, The Darkside and Dark Place, it is the first from more than one filmmaker that's entirely helmed by women.
See also
* All new movies in cinemas
* All new streaming movies & series
Here, 11 directors share their eerie visions, via shorts that date back to 2005. They have been curated into one compilation and are framed by an overarching story—which follows the bereaved Clara (Andrea Demetriades) as she discovers a book in her recently deceased mother's belongings, then finds herself drawn to its contents.
This wraparound segment, called The Book of Dark Whispers, provides the film's connective tissue. Helmed by the anthology's creator and producer Megan Riakos, it watches as Clara is compelled to pick up the leather-bound tome, then can't stop reading story after story. She hears her mother's voice as she thumbs through the pages, and sees and feels echoes of each chapter before she moves onto the next. These are obvious touches, but they couldn't better convey the movie's throughline, with every tale exploring the kinds of fears and feelings that whisper away in women's minds.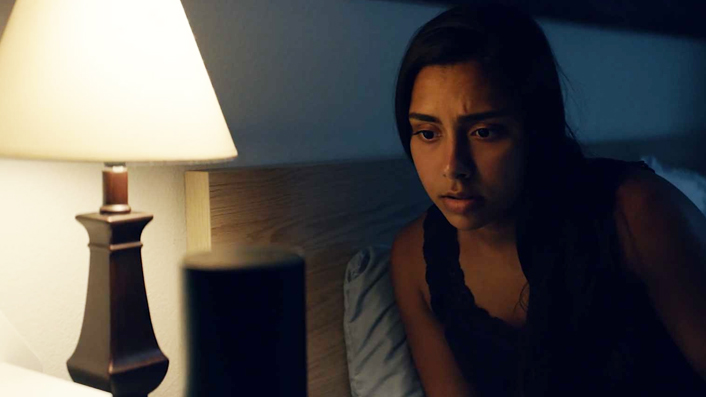 The Book of Dark Whispers also leads by example. During Clara's visit to her mum's now-empty home, she's forced not only to face the reality that the woman who brought her into the world is gone, but that she'll never know everything there is to know about her. Angie Black's short Birthday Girl then picks up this theme and inverts it, spending time in an elevator with a grieving mother (Sarah Bollenberg). In the instantly moody seven minute piece, Black's protagonist looks back at the past to confront the future she'll never be able to share with her daughter. In the process, the film speaks not just to those who've lost children, but also to anyone who can't or doesn't want to—because everyone wonders what might've been at least once.
After starting off playfully, Kaitlin Tinker's The Man Who Caught a Mermaid finds a new way to interrogate an age-old power dynamic, toxic masculinity and the role of fantasy in prolonging problematic perspectives. Twisty, clever and stylishly shot, it's one of the film's standout segments. Later in the anthology, both Lucy Gouldthorpe's Grillz and Madeleine Purdy's Little Share House of Horrors also pick up and update oft-deployed horror tropes, the former bringing a bloodsucker into the online dating world and the latter toying with suburban terrors.
As each new chapter hits the screen, veering wildly from the gothic animation and vibe of Isabel Peppard's Gloomy Valentine to the heightened take on voyeurism and self-worth seen in Briony Kidd's Look at Me, the usual anthology bugbears are evident. Variety is crucial in any film that brings together disparate chapters, but some sections shine brighter than others. Still, Dark Whispers' thematic cohesion helps buoy its lesser chapters—and helps it carve a niche between America's similar all-female 2017 effort XX and 2019 Finnish drama anthology Force of Habit, which scrutinises everyday moments of gender imbalance.
Some Dark Whispers segments take their time to make a mark, such as Marion Pilowsky's The Ride, a short that's lifted not by Anthony LaPaglia's presence or its racial discrimination-fuelled storyline but by its final moments. For its bulk, the male-heavy film spends time with a university student (Ed Speleers) and the stranger who offers him a lift; however, it eventually ponders the types of people anyone can get stuck with not only through the vagaries of fate, but due to their choice of partner.
Janine Hewitt's The Intruder also gives Dark Whispers some star power, with Asher Keddie leading the 2005 short as a woman terrified that a killer is at her door. Constantly subverting expectations, it joins the anthology's highlights alongside Jub Clerc's Storytime and Katrina Irawati Graham's White Song, the two most evocative films—and, focusing on a missing Indigenous boy and an Indonesian ghost story, respectively, the two shorts with a multicultural viewpoint.
Anthologies are a literal mixed bag, and Dark Whispers is no different. As overseas fare such as V/H/S and The Field Guide to Evil have shown, they also provide exceptional snapshots. Shining a spotlight on Australia's female filmmakers working in horror is clearly one of Dark Whispers film's purposes—and showcasing the breadth of voices and stories, too—but Dark Whispers never forgets to stitch its individual parts together and brandish an overall perspective, either.