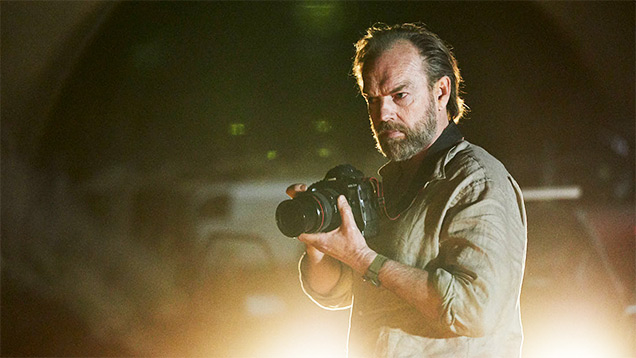 Hearts and Bones features another terrific performance from national treasure Hugo Weaving

---
How good is Hugo Weaving? The great Australian actor delivers a fascinating performance as a renowned war photographer in this powerful and poetic film.

A car rolls to a halt on a desert road in the Iraqi countryside at night. A carload of slain civilians blocks the trail. World-renowned war photographer Daniel Fisher (Hugo Weaving) exits his vehicle to capture the carnage and inadvertently spooks a survivor, a little girl. Collapsing down the hillside after her, he cannot block his impulse to take a photo, and the grating clicks of his lens sends her streaming headlong into the phosphorescent blast of a land mine.
That is how we begin director Ben Lawrence's Hearts and Bones, a story ultimately about reconciliation. Reconciliation of one's purpose, past, fears, identity and work. The characters are lived in, the geography is textured, and it asks difficult questions.
When Fisher returns from his latest assignment, he starts to promote a forthcoming career retrospective on the radio. By coincidence, Sudanese refugee Sebastian Ahmed (Andrew Luri) hears the broadcast and attempts to reach out. When Sebastian confronts Daniel, he asks him to withdraw any photographs of his village. Hearts and Bones wrestles with the simple question: "why?"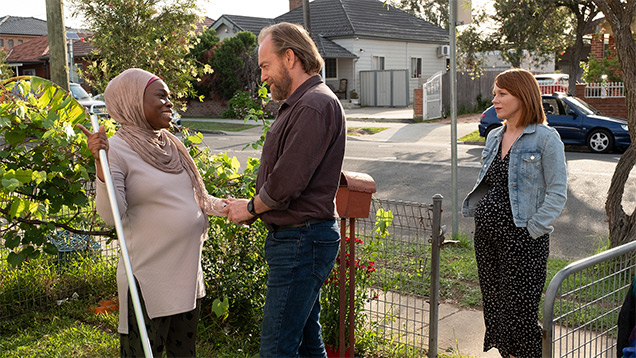 Lawrence's aesthetic is refreshingly raw. The lighting feels natural and actors feel barely touched with make-up. Cinematographer Hugh Miller (whose resume saw him ascend to the world's highest peaks in the 2015 documentary Sherpa) relishes adapting confined, sea-level spaces. Glare on the frame blinds, as it catches the dust of renovation and the lights of tangled Sydney streets, reflecting them on the handsome ebony face of Andrew Luri.
Weaving is a fascinating physical performer. Every ache, pain and emotional turmoil riddling Daniel is conveyed in the very rhythm of his movement. He bursts at the seams, remaining composed only by sheer stubbornness. Memorable moments include a scene in which Weaving talks to his character's doctor, outlining a life lived with enduring physical and psychological trauma.
Josie Avril (Hayley McElhinney), Daniel's partner, sits aghast. McElhinney and Weaving have serious chemistry, sharing a beautiful and refreshingly frank encounter at the beginning of the film. They battle for Josie's choice to have a baby with likely health issues, and Daniel's ongoing proximity to danger in his work.
Sign up for Flicks updates
Sebastian is tenaciously determined to convince Daniel to omit photographs he has taken because of the pain they convey. However, he sees the trauma in Daniel that reflects the faces of his fellow refugees and convinces him to see the healing work performed by his choir at a community centre. Anishka Ahmed (Bolude Watson), Sebastian's pregnant wife, is the splint that keeps him standing. She's the film's conscience; a force for empathy. Watson's performance as her blooms as the running time progresses.
Hearts and Bones is more than an affecting drama; it uses Weaving's character to ask ethical questions that plague journalists and documentarians. Are they affecting people in the places they're trying to observe? Are they making a living out of the world's most heinous acts? What responsibility do they have to their subjects? The film brings these suffering faces – the faces of the subjects of their photos – and breathes life into them. Hearts and Bones shows filmmaking restraint. It is poetic and powerful.