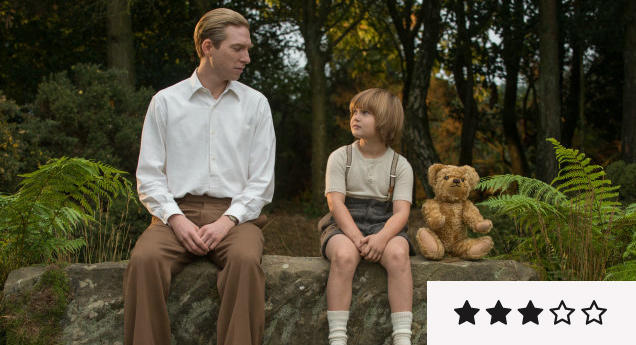 Director Simon Curtis (My Week with Marilyn) delivers another biography based on reality that never lets facts get in the way of a good story. Set in England between the world wars, writer A.A. Milne (Domhnall Gleeson), wracked by post-WWI trauma, and struggling to keep his marriage to Daphne (Margot Robbie) together, moves his family to the countryside. He writes Winnie The Pooh, which becomes a huge success, inadvertently turning his young son, Christopher Robin, into a worldwide celebrity. Yet, despite the tender warmth of his work, Milne's relationship with his son remains difficult and distant.
Robbie's token wife feels underwritten, with little by way of redeeming qualities, but the cast are all solid. In particular, Kelly MacDonald is a stand-out as Olive, Christopher's sympathetic nurse bearing witness to the pressure on her young charge caused by dysfunctional parents and unwanted fame.
Come 1942, an all grown-up Christopher Robin is set on fighting Hitler's troops, and it's the resulting emotional, heart-string tugging tragedy of war that prevents this being a family film, as its adult subject matter (and smattering of ripe language) may prove unsuitable for kids. Nonetheless, it's a far from bleak tale in the telling, with a large dollop of sweetness and a sincere message of hope. Although, bemoaning lost childhood innocence is all well and good for wealthy first-world families with all the mod-cons, and resenting early fame might prove a tough sell in today's celebrity-obsessed online culture.
Still, if you're not averse to well-wrought sentimentality, this solidly acted and directed small-scale family relationship melodrama should have you shedding a tear, or three, and you may never see Pooh in the same innocent light again.