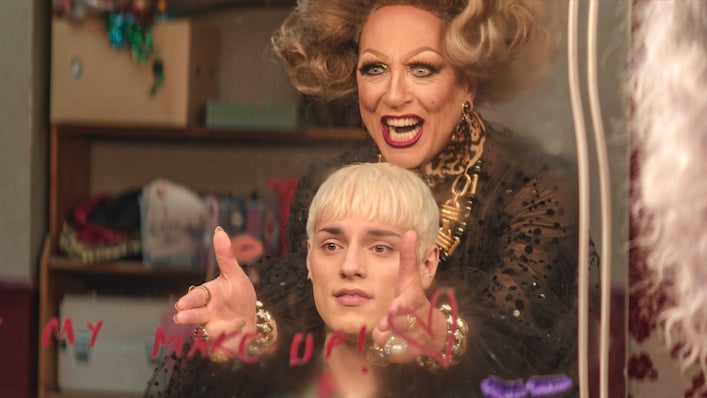 Everybody's Talking About Jamie is a family-friendly drag high school musical

---
This adaptation of the West End musical arrives on Prime Video at a time when audiences are starved for theatrical flair. Glenn Dunks explains how the pure effervescence of Everybody's Talking About Jamie is a welcome addition for LGBTIQ+ audiences.
Watch any season of RuPaul's Drag Race and you will see drag queens who have come from homes that didn't accept them. It's a sad but true fact that many young queer individuals continue to face discrimination at the hand of those whose one responsibility should be to love them.
See also:
* All new movies & series on Prime Video
* All new streaming movies & series
Thankfully, it's also becoming more common that a baby queen can strut into the 'werk room' full of confidence and the encouragement of a family that sees self-expression and art as their child's gift to the world. Even if it's just a sliver, it's nice to see the world progressing beyond homophobia and shame.
I thought of Drag Race season 12 alum like Gigi Goode and this more contemporary attitude towards queerness as I watched the film adaptation of West End theatre production Everybody's Talking About Jamie. 16-year-old Jamie (Max Harwood) has already come out as gay at school and to family, but he spends his days dreaming about drag. He scrolls Instagram during class, he works a paper route to pay for a pair of ruby red heels, and he fantasises about elaborate musical numbers wherein he goes from stomping the halls of his Sheffield high school to the nightclubs and fashion runways of the world. All while looking fabulous in a procession of sequinned outfits and with his trademark cropped blonde hair, of course.
Jamie lives with his very accepting mother Margaret (Sarah Lancashire), but dad Wayne (Ralph Ineson) is more or less out of the picture, with a new wife and no desire to be a father to such a flamboyantly-out son like Jamie. At school, best mate Pritti (Lauren Patel) allows him to escape from the realities of bully student Dean (Samuel Bottomly) and increasingly hostile teacher Miss Hedge (Sharon Horgan).
Enter Hugo Battersby (Richard E Grant), a fashion boutique owner and former drag queen who takes Jamie under his wing as the boy sets to come out all over again as an all-syncing all-dancing drag queen at prom. I guess you could say it's a little bit Billy Elliot without the Thatcher-era politics getting in the way.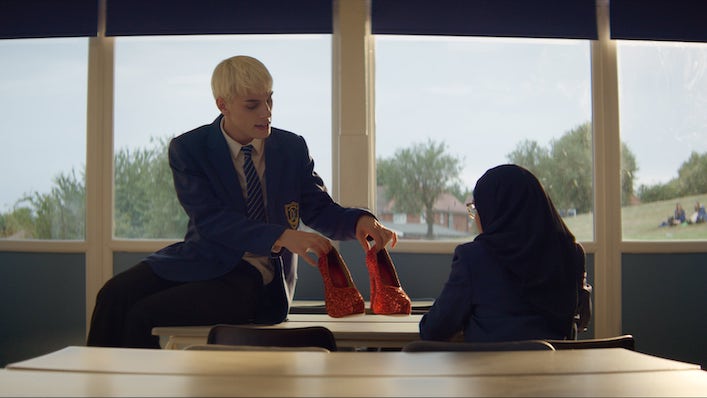 RuPaul Charles himself has said that drag will never be mainstream, but once Amazon starts releasing movies aimed at the whole family you sort of have to accept that it has. First-time director Jonathan Butterall (who also directed Jamie on stage) imbues this very modern musical with a hearty and equal sense of camp and sincerity. The confident commitment of newcomer Harwood in the title role is contagious, from Guy Speranza's fab costumes down to Kate Prince's spirited choreography.
You truly have to see Richard E Grant in drag as Loco Chanelle with hair to the heavens—that's commitment. Tom MacRae's songs are mostly fizzy and fresh, although Butterall does find more success in numbers like the opening 'And You Don't Even Know It' and the titular song than the show's slower ballads.
Jamie's occasional acidity goes unexplored, and it would have been nice to see the film's acknowledgement of queer history expanded upon. As it is in original number 'This Was Me', it's a lovely moment, but conveniently left aside once it's over. Furthermore, befitting a film called Everybody's Talking About Jamie in which the titular character creates a drag persona known as Mimi Me, everyone who isn't Jamie gets short shrift. Did Pritti ever make it to medical school? Did mum ever go on a date? The film doesn't seem to care all that much—at two hours, it seems like there's enough room to elaborate—but if your feet are tapping you may not even notice.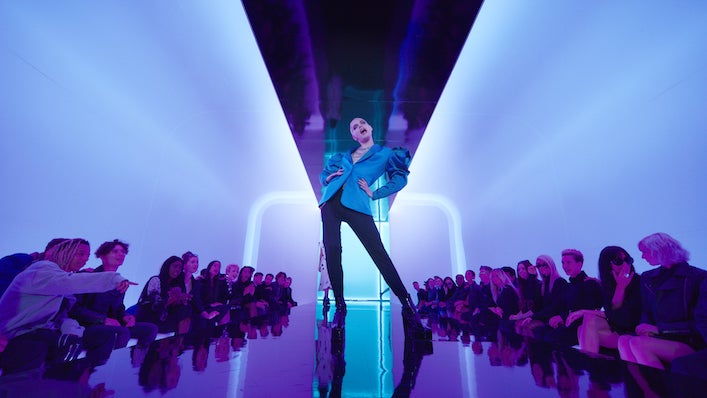 Everybody's Talking About Jamie is unashamedly targeted at young audiences. A movie for queer hims, hers and theys to watch with parents, and for those older viewers to sit and get misty-eyed over what never was for them. Unlike Ryan Murphy's version of The Prom, there is a scrappiness here that defies the commercialisation of queer lives by conglomerates. These aren't Hollywood stars play-acting at being kids like Dear Evan Hansen. Everybody's Talking About Jamie may be on Amazon Prime, but it never once has the stink of a corporation throwing a rainbow on their logo and calling it pride. Some may wince at the musical's sickly-sweet sincerity, but it's got a purity to it that is endlessly charming. Kick up your heels and enjoy.