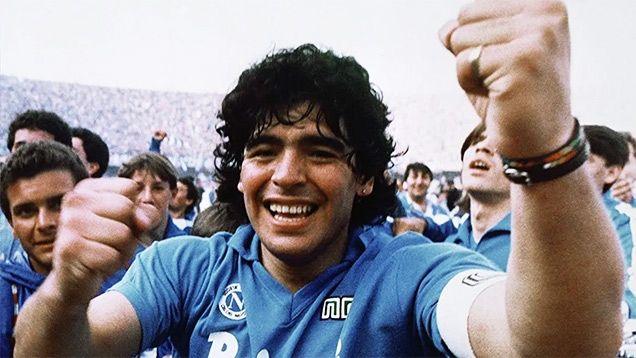 Diego Maradona is a fascinating portrait of the retired soccer superstar

---
The director of Senna and Amy turns his gaze to Diego Maradona, the world's best footballer in the 1980s, who was perpetually playing his way in and out of controversy. It's a fascinating portrait of an artist's rise and fall, writes critic Craig Mathieson.
Asked in the early 1980s about comparisons to Pele, the Brazilian then considered to have been the greatest football player of all time, the Argentinean forward Diego Maradona replies: "I simply want to be Maradona."
That's a straightforward answer, until you consider how complex Maradona was. The child of a Buenos Aires slum, he was preternaturally gifted, a mother's boy, was diminutive but played with herculean energy, did wondrous things on the field, did terrible things off the field, and often invoked God – he attributed his infamous goal in the 1986 World Cup to "the hand of God" – as much as an act of heavenly comparison as a form of divine thanks. Being Maradona, Asif Kapadia's film suggests, was ultimately an untenable quest.
Sign up for Flicks updates
Kapadia's two previously acclaimed documentaries, 2010's Senna and 2015's Amy, were postmortems of obsessive figures who died young and unsatisfied. Maradona is still alive, a rotund 58-year-old traversing the football world, but the filmmaker holds him at a distance. You hear Maradona's voice from contemporary interviews, but it's just explanatory snatches. He's never directly questioned because Kapadia finds his defining truth in the images his subject's leave in their wake; 1980s videotape grain is the director's touchstone.
Assembled in part from his archive, the vision here of Maradona is dizzying – there's movement, both on and off the field, and an ungainly truthfulness. There are moments here when Maradona's eyes glow with messianic determination, and when he looks as frightened as an animal in a slaughter house.
The focus is the player's years in Italy, where he joined the less than renowned Napoli in 1984 after a comparatively unsuccessful two years with Barcelona in Spain defined by a mass on-field brawl Maradona set off. Naples was one of Europe's poorest cities, dismissed by Italy's northern strongholds; "Napoli cholera!" chanted fans of Turin's Juventus before a match. Playing for the underdog suited Maradona, and year by year he pulled Napoli up the ladder of Italy's Serie A league. Not that you see a ladder, or hear discussion of tactics or even technique.
Instead Kapadia stays close to Maradona: game footage is always shot from ground level, as if you're standing just behind the goal Maradona is trying to thump the ball into. It emphasises the casual brutality of the game, and the vast emotional stakes. Stadium stands shaking with supporters reach to the sky at every angle.
Like many elite athletes Maradona was a wonder at a game and less than perfect at life. Naples worshipped him, and the city's well-established organised crime syndicates feted him. In this era of distant sporting deities, surrounded by advisors, it's almost heartbreaking to see how Maradona was swallowed up by gangsters – they would give him a gold Rolex watch to go to a store opening, where he would be invariably mobbed, and later they provided cocaine and prostitutes.
On a police phone tap he orders two escorts from an obliging pimp, who then puts her son on to chat about football. His downfall is ordinary, and Kapadia does not hide from its shoddy truths. The film knows that Maradona's rise and fall as a professional footballer is extreme, but not unique. Instead of trying to distill Diego Maradona it looks to fold his contradictions together. It's a compelling approach. Maradona shoots, Kapadia scores.