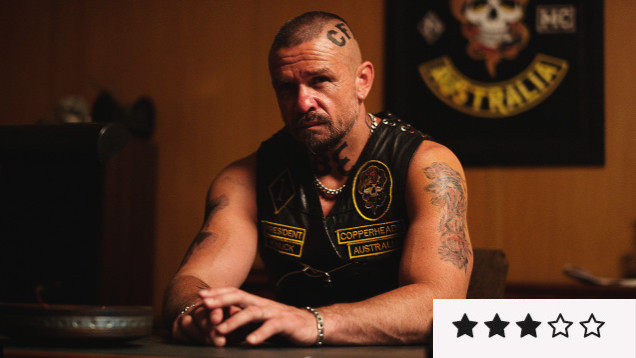 1% review: Australian biker movie is Sons of Anarchy on steroids

---
Director Stephen McCallum's deafening debut dives into the Australian biker underworld with a roar, grabbing that glamorised Sons of Anarchy image and bludgeoning it to death. The raw and disturbing Macbeth riff from writer and star Matt Nable has no sentimentality for the 'brotherhood' of the biker; instead power – sexual, physical and psychological – corrupts absolutely.
While Copperheads President Knuck (Matt Nable) has been in jail, Vice President Paddo (Ryan Corr) has taken the handlebars and is trying to steer the club to legitimacy. When Paddo's mentally disabled brother Skink (Josh McConville) slights a rival gang leader (Aaron Pedersen) he's dealt an ultimatum: cut them in or lose his brother. Knuck is released and Paddo has to make a choice: allow the club to return to their blunt force heyday – killing his brother, or make a play for the throne. On the sidelines, the queens of each faction Katrina (Abbey Lee) and Hayley (Simone Kessell) use cunning to solidify allegiances and tip the scales.
Matt Nable's screenplay is an unflinching and scathing cautionary tale. If you're looking for biker advertorials like the Kawasaki riding Grave Diggers from Aussie cult classic Stone, or to a lesser degree the post-apocalyptic chic of Mad Max, you're in for a disturbing shock. Knuck (who is played by Nable) is a special kind of deplorable. To salvage any part of this violent, ravaging throwback is a difficult task that Nable just manages, remaining engaging by the threads of his tight Mohawk.
Sign up for Flicks updates
Corr's Paddo realises all too late that maybe this isn't the life he thought it would be. He cuts that alluring image of modern day bikie, like Jax (Charlie Hunham) before him. But Corr's piercing eyes reveal his cards –despite all his best efforts of wanting to leave this life – the lingering inevitability of death looms large.
Abbey Lee's Katrina, the 'Lady Macbeth' of 1%, is burdened with the ambition to be on the arm of power, in the Copperheads. Lee shines in the rivalry with Simone Kessell's Hayley; especially as their relationship escalates from strained cordiality, to overt lines being drawn in the sand. Josh McConville is wildly good as Skink. It's a performance where he must look at home with a band of bikies but be as socially and emotionally inept as a child.
It's not all brute force through. 1% relishes in the quiet and intimate whispers that coerce and pervert pure motivation. McCallum and cinematographer Shelley Farthing-Dawe push the audience into those spaces, peaking into the tenderness between the leather armour and so near the blood and the sweat you feel like you need a rinse off.
1% harkens back to something like American History X. The film is set in a disturbing and unpleasant world that you visit with a detached disbelief and curiosity. Unlike the tale of tragic redemption in American History X, which begs to be revisited despite its brutality, 1% lights a fuse in this arcane, violent and hypocritical group, and you're relieved to watch it burn.