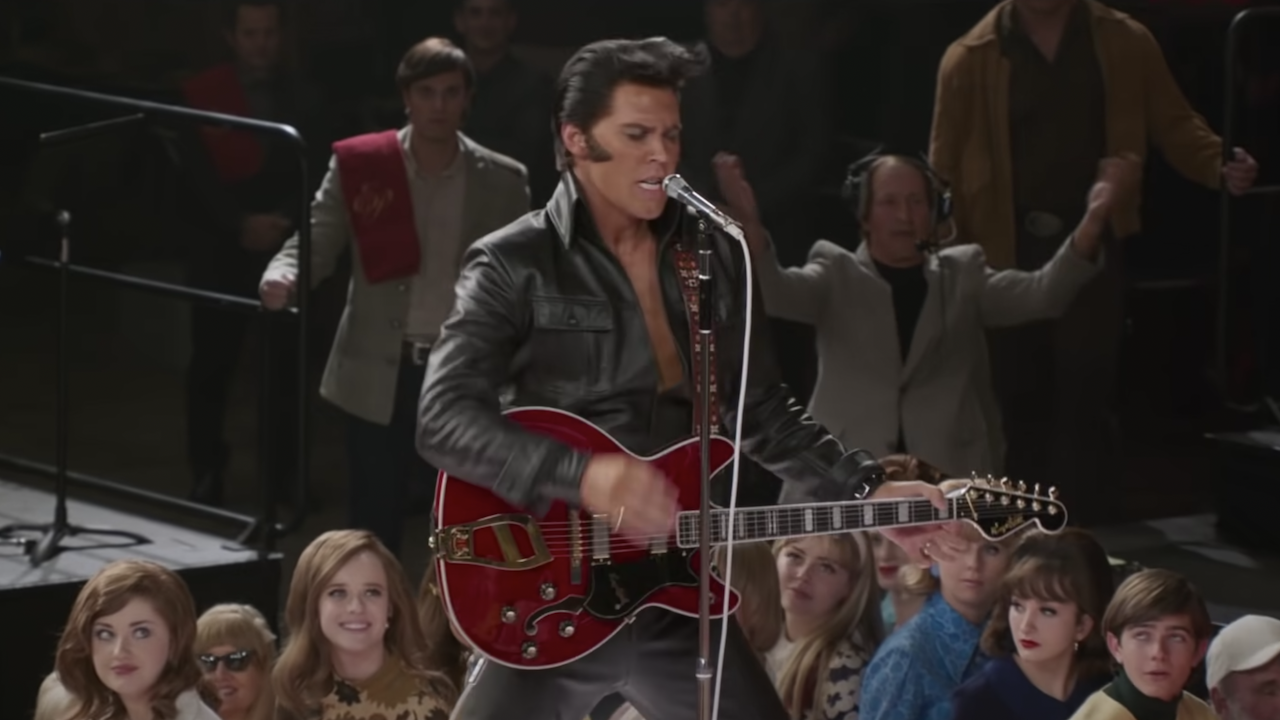 When is Baz Luhrmann's glittery Elvis biopic coming out in Australia?

---
As usual, Baz Luhrmann is going big with his next project, tackling possibly the only subject matter more exalted than The Great Gatsby—a big, sparkly biopic all about Elvis Presley.
Simply titled Elvis, Luhrmann's musical feature will certainly be one of the biggest movies of 2022. We are officially slicking our do's back into pompadours, sliding on some blue suede shoes, and getting ready to hail the king when Elvis rocks and rolls into cinemas on June 23.
Back when Tom Hanks and his wife Rita Wilson were some of the first famous faces to test positive for coronavirus, Elvis was the project responsible for trapping the pair in Queensland's Gold Coast. Hanks plays Presley's complex manager Colonel Tom Parker, in a fairly star-studded cast of talented people playing other talented people from 70 years ago.
Like Little Richard, B.B. King, and Sister Rosette Tharpe, portrayed respectively by Kelvin Harrison Jr., Alton Mason, and powerful country vocalist Yola. Dacre Montgomery, Kodi Smit-McPhee, and Xavier Samuel play other figures from Elvis' past, with Richard Roxburgh and Helen Thomson as his parents.
You can catch a glimpse of some of those reinvigorated characters in the official trailer below, showing off a more rebellious and anti-authoritarian version of Presley than might originally come to mind. "Get a haircut, buttercup!", some jerk yells at the King before he "transforms into a superhero" right on stage before the world's eyes.
The casting of that monster title role was a tricky one, with Harry Styles and Miles Teller apparently in consideration—but the role has ultimately gone to Austin Butler, a relatively unknown pretty boy you might remember as one of the Manson murderers in Once Upon A Time In Hollywood.
View this post on Instagram
Olivia DeJonge will play teen bride Priscilla Presley, with the real 74-year-old Priscilla weighing in on Luhrmann's production and confirming what we already suspected: "Mind you, this is a Baz Luhrmann film, it's going to be very stylised. I mean, this is not going to be just a regular film."
The last attempt to chronicle Elvis' life came from adorable screen buddies John Carpenter and Kurt Russell way back in 1979, only two years after the star's shocking death. Since we don't have a nice fresh trailer to show you for Elvis 2022, why not check out the fuzzy-lookin' old one below?
As the trailer croons, we'll soon get to see a new version of all Elvis's sparkly facets: "The boy who had a dream, the teenager who wanted to be different, the son who found happiness in his mother's love…the singing sensation who made the girls scream and the men explode." Potential Scanners crossover spin-off of a rock star making dudes' heads explode??!!