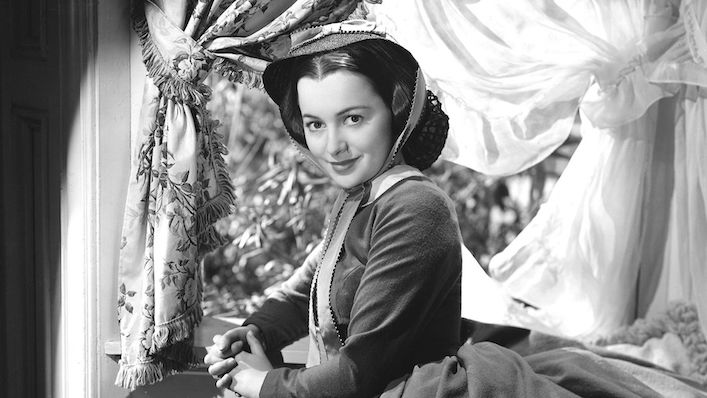 Vale Olivia De Havilland, one of the last surviving stars of Hollywood's golden age

---
For a long time, Olivia De Havilland has been brought up as the most shining, prominent example of a Hollywood survivor; one of the few living stars who witnessed first-hand the film industry's illustrious studio system days. With this week's news of the actress's death at the ripe old age of 104, it feels like yet another end of an era, and we can look back on De Havilland's unique career and work with a melancholy sense of grace.
You probably know Olivia De Havilland for her role as the angelic Melanie in 1939 mega-blockbuster Gone With The Wind, a film that's received much cultural re-appraisal lately for its temporary removal from streaming services. In contrast to Vivien Leigh's spoilt protagonist, De Havilland's Melanie embodied the ideal of the delicate, feminine Southern belle, establishing the British-American actress as one of the era's most luminous talents.
Sign up for Flicks updates
As the Maid Marian to Errol Flynn's Robin Hood, De Havilland starred in multiple swashbuckling adventure films, quickly making a name for herself amongst a broad audience of all ages. Unusually for the then-stringent rules of the Hollywood studio system, De Havilland worked as an independent, famously suing Warner Bros. when they wrongfully tried to extend her seven-year contract as punishment for not accepting the studio's roles. The landmark decision made in her favour became known as the 'De Havilland Law'.
Hollywood' most powerful, most beautiful Trinity. #HattieMcDaniel ##oliviadehaviland #vivienleigh pic.twitter.com/ZQBg2Lk2yg

— Reflections in a Golden Eye. (@tphedge) July 27, 2020
The actress is remembered for her exciting life both on and off screen; her ongoing rivalry with her sister Joan Fontaine is one of the greatest and most complex narratives in Old Hollywood gossip, the troubled pair being the only siblings in history to have both won Academy Awards for their acting. As recently as 2017, De Havilland took FX Networks to court for their depiction of her Ryan Murphy's biopic series Feud, where she was portrayed by Catherine Zeta-Jones; the suit was allegedly concerning the show's acerbic depiction of the unsteady De Havilland/Fontaine relationship.
Despite De Havilland's significant work in dismantling the micro-managing tyranny of the studio system, and her lush filmography of more than 50 appearances, the actress has become best known in recent years merely for living to tell her story into the 21st century. The oldest surviving cast member of Gone With The Wind and practically every great American film she starred in, De Havilland recently attributed her long life to her habit of drinking champagne every single day.
Julien Mignot took this wonderful video of Olivia de Havilland back in 2018 when he photographed her for the New York Times. It made my heart burst 💕 pic.twitter.com/dwwtkFyuDg

— a🌸 (@_Are_Flo_) July 26, 2020