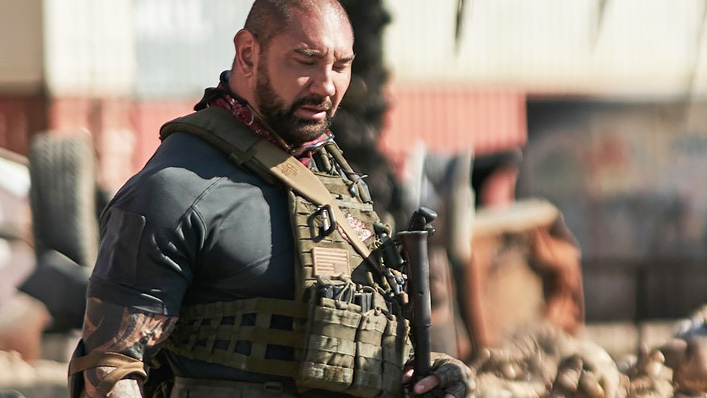 Trailer and release date for Zack Snyder's zombie heist Army Of The Dead

---
Despite being the director of multiple huge superhero franchises and some of the 2000s' most bombastic blockbusters, Zack Snyder has been pegged as somewhat of an underdog these days, what with the release of the controversial 'SnyderCut'.
That makes the trailer for his next movie, Army of the Dead, a big win: it's coming out on Netflix soon, uncut, and it looks like nothing more than grisly, unrestrained zombie-slayin' fun.
Snyder's Dawn Of The Dead remake is still one of his best projects, and his hyped-up Army Of The Dead will hopefully reach that standard. Unlike in George Romero films, the zombies here don't seem hindered by the usual post-death slowness or dumbness that makes most reanimated corpses so easily defeated.
It'll take all of Dave Bautista's might and a motley crew of soldiers to put 'em back in their graves where they belong, all while trying to score $200 million stowed away below the Las Vegas strip.
Zack Snyder says there are no other cuts of #ArmyoftheDead

'You don't have to see a bastardized version. You get to just see the awesome version first'

(via @KirstenAcuna) pic.twitter.com/UdvICGt7WB

— Fandom (@getFANDOM) April 13, 2021
While Snyder has expressed relief (above tweet) that this will be the final cut of Army of the Dead, even this project has had some surprising obstacles and edits. Namely, the fact that sexual assault allegations against original cast member Chris D'Elia have lead to his total and seamless replacement in the film by comedian Tig Notaro.
Can we take a moment to appreciate how flawless Tig Notaro's addition to ARMY OF THE DEAD is?

Tig Notaro was brought in to replace Chris D'Elia, however due to the pandemic, they filmed all her work on green screen. She never actually interacted with the cast.#ArmyOfTheDead pic.twitter.com/cQ1B8DH9u9

— Walt (@UberKryptonian) April 13, 2021
If the marriage of heist movie, zombie apocalypse movie, a zombie tiger and a cover of Kenny Rogers' The Gambler hasn't already won you over, make up your own mind on May 21, when Army of the Dead marches onto Netflix.