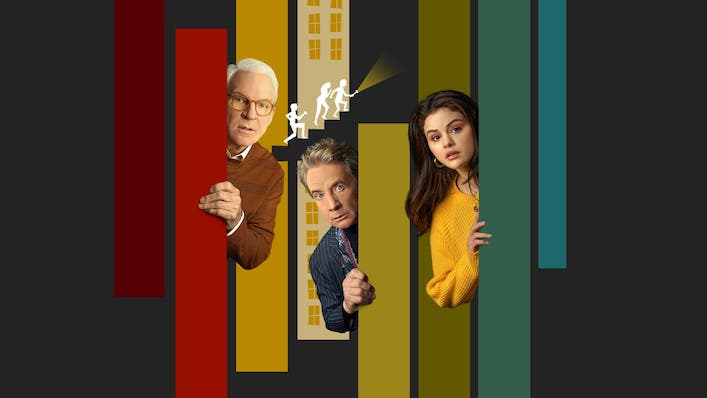 Trailer and release date for New York mystery Only Murders in the Building

---
Whether you stop for a chat daily, opt for a committal wave "hello" every once in a while, or couldn't pick them out of a police line-up, your neighbours are always going to be somewhat of a mystery. Even though you might share a wall, you can never really know what's going on in there.
They could be murderers behind closed doors, for all you know. Or, even more shockingly, they could be Steve Martin, Martin Short and Selena Gomez, solving said murders as an unlikely trio of friends in the new TV series Only Murders in the Building. The truth will unfold week-by-week on Disney+ via the Star content tile, beginning on August 31 and concluding on November 2.
The crime-comedy comes from the "comedic mind of Steve Martin", who was nice enough to cast IRL best bud Short as a fellow true crime obsessive who gets drawn into an actual murder mystery. Armed with a fluffy podcasting mic and some inappropriately gleeful enthusiasm for sleuthing, the pair enlist Selena Gomez's like-minded millennial to solve a bamboozling death in their New York apartment building.
The show's home on Star feels correct, since there's so much star power on both sides of the camera. Musical legend Sting himself makes a shock cameo in the trailer above ("The guy from U2?" Selena painfully asks), and Jamie Babbit, director of one of my fave comedies But I'm A Cheerleader, helms the pilot episode.
But really, most of us will be here for our three protagonists, and the intergenerational friendship they form while ghoulishly sneaking around in a dead man's flat. Across 10 episodes, we may even find that the murder mystery comes second to all the vibrant and cosy comedy of Only Murders In The Building. Although that plural "murders" in the title makes me think we're in for more death than the initial episodes may establish.