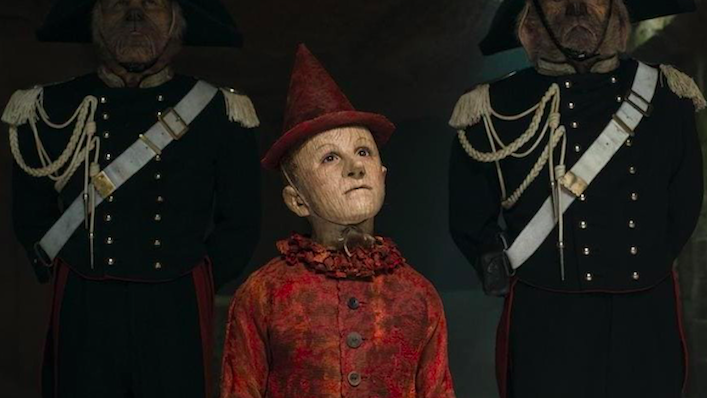 The Italian Film Festival returns in September, opening with a gothic retelling of Pinocchio

---
Anyone remember that uncanny Pinocchio movie starring Life Is Beautiful Oscar-winner Roberto Benigni as the titular puppet? Probably not a great way to introduce this week's exciting film festival news, but that 2002 film is about to be drastically bested by the 2020 Italian Film Festival's opening-night release, also titled simply Pinocchio. And also starring Benigni, this time as Pinocchio's father and creator Gepetto. Weird, right?
Presented by Palace Cinemas, the 21st annual Italian Film Festival will return to cinema screens across the nation in late September, screening great new and classic Italian film in Sydney, Brisbane, Perth, Adelaide, Canberra, Byron Bay and even Melbourne, once (and if) conditions hopefully permit.
Sign up for Flicks updates
Highlights include Il Traditore, a Mafia drama which won big at the 65th David di Donatello Awards (Italy's most respected cinema awards ceremony), and the bighearted comedy I Hate Summer, in which three bumbling families accidentally book the same holiday rental in the idyllic Italian countryside. There's also a special presentation of The Goddess of Fortune, a drama about long-term relationships that, according to The Hollywood Reporter, explores "the familiar ironies of gay dramedy."
Festival director Elysia Zeccola highlighted the need for public, communal moviegoing right now, admitting that "although the festival will look a little different this year, we will continue to share our love for Italian cinema, language and culture and give our loyal audience something to look forward to with a chance to escape to Italy."
And escape you shall, with director Matteo Garrone's Pinocchio adaptation as the festival's opening night film. The winner of seven Nastro d'Argento awards, you can check out the trailer above, and buy tickets to the film and all other Italian Film Festival screenings via their website.
The dates of the Italian Film Festival, taken from the official website, are as follows:
Sydney: 29 Sept – 18 Oct, Palace Norton Street, Palace Verona, Chauvel Cinemas, Palace Central
Melbourne: *TBA, Palace Cinema Como, Palace Westgarth, Palace Balwyn, Palace Brighton Bay, Kino Cinemas, The Astor Theatre
Canberra: 1 Oct – 18 Oct, Palace Electric Cinemas
Brisbane: 1 Oct – 18 Oct, Palace Barracks and Palace James Street
Adelaide: 29 Sept – 13 Oct, Palace Nova Eastend Cinemas
Perth: 1 Oct – 14 Oct, Palace Raine Square, Luna on SX and Leederville
Byron Bay: 2 Oct – 14 Oct, Palace Byron Bay
The full programme will be announced in late August.
* Although we cannot confidently confirm it will be possible to present the 2020 Italian Film Festival in Melbourne from late September, as soon as cinemas can safely reopen the Festival dates for the city will be confirmed.