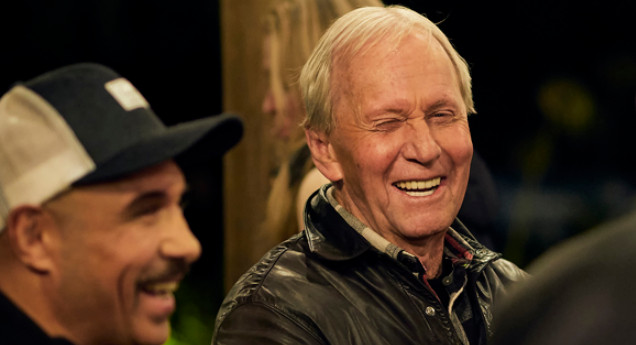 A huge, star-studded line-up of legendary Australian comedians appear in the trailer for That's Not My Dog!, which opens in cinemas on March 15.
The film is seriously full of funny people. Has a larger array of local comics ever been assembled in a movie before?
The cast of That's Not My Dog! includes: Shane Jacobson, Paul Hogan, Jimeoin, Michala Banas, Steve Vizard, Fiona O'Loughlin, Tim Ferguson, Lehmo, Ed Kavalee, Paul Fenech, Rob Carlton, Christie Whelan Browne, Hung Le, Stephen Hall and Lulu McClatchy.
That is quite a line-up. The film was directed by Dean Murphy, who made Charlie & Boots (starring Paul Hogan and Shane Jacobson) and Strange Bedfellows (starring Paul Hogan and Michael Caton).
That's Not My Dog follows Shane Jacobson (playing himself) as he throws a party, inviting the funniest people he knows – thus all the famous stand-up comedians. He asks that all of his guests come to the party with the three funniest jokes they've ever heard.
That is…quite a bit of pressure on the guests. The trailer shows an outdoor party, with plenty of beer ('straya mate, 'straya) and a lot of chin wagging. Will the film be as funny as its guests? We'll find out soon enough.