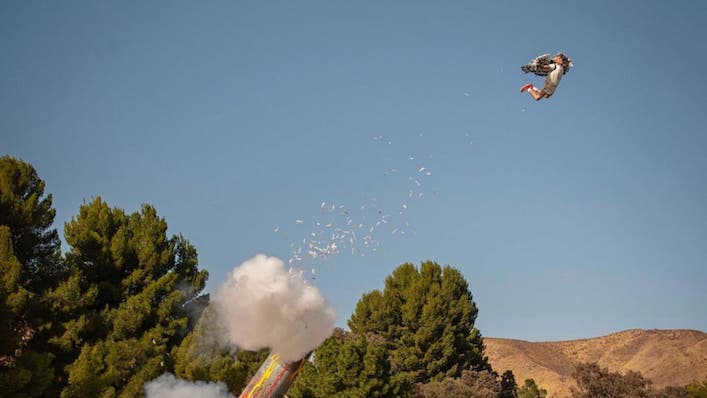 That's gotta hurt: Australian trailer and release date for Jackass Forever

---
It's good to see that the Jackass boys have grown old but not grown up, as evidenced by the ouch-inducing new trailer for Jackass Forever. Now mired in middle-age, Johnny Knoxville is still leading a merry band of idiots through a slew of near-unwatchable pranks, and you can enjoy all the hilarious violence on the big screen soon.
Soundtracked to Johnny Cash's sombre cover of We'll Meet Again, the first trailer for the fourth instalment in the Jackass film series posits a poignant, post-COVID-era question: "When was the last time you got together with old friends to laugh your asses off?"
Then there's the actual threat of somebody's arse falling off, with Knoxville flung out of a canon and a raspy-voiced Steve-O screaming while seemingly getting stung by countless bees.
In their absence from our screens, the Jackass gang has even accumulated its own circle of celebrity fans and pranksters willing to join in on the fun. You can witness Eric André, Tyler The Creator, Post Malone, Shaq, and more getting tortured for our amusement on October 21, when Jackass Forever blasts into Australian cinemas.
The intense stupidity climaxes in one poor sod getting strapped into a chair, covered in honey and fresh salmon, and left at the mercy of a grizzly bear. Whether the team's shenanigans will be toned down to accommodate their damaged bodies and the fact that they now have respectable families and children remains to be seen. But judging from that bear stunt, I'm expecting Jackass Forever to cause just as many winces as the other films, if not more.
Getting emotional over this poster for Jackass Forever. It's beautiful. pic.twitter.com/zOeppgkDaG

— filmaroni (@filmaroni) July 19, 2021
Even after three movies and personnel moving onto bigger and better things (director and little skater brat Spike Jonze is now an elder statesmen of American indie cinema, for instance), slapstick will never die. You can experience the purity of this extremely low form of humour in cinemas, when Jackass Forever is released on October 21.