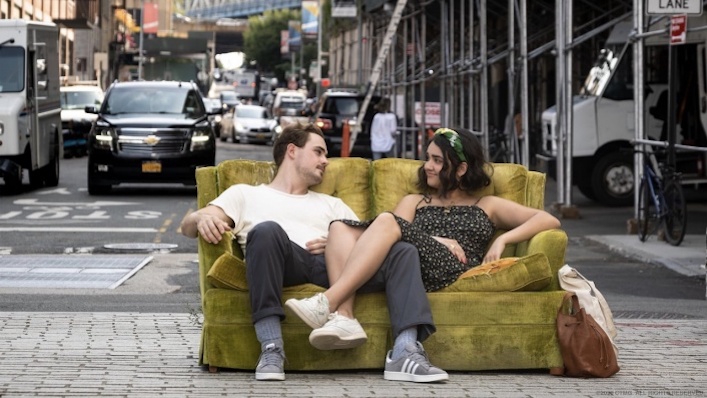 The Broken Hearts Gallery unites rising Aussie stars Geraldine Viswanathan and Dacre Montgomery

---
It's no secret that Hollywood loves Aussie talent. Every few years, there seems to be a new wave of talent from Down Under making waves in international blockbusters. On top of the 90s old guard of Nicole Kidman, Naomi Watts and Russell Crowe, now Chris Hemsworth and Margot Robbie are some of the industry's most bankable stars, appearing in huge films for Marvel and DC.
Two of the most buzzworthy young Aussie names in recent years are Geraldine Viswanathan, a Newcastle actress whose breakout role was as an angsty teen in the comedy Blockers, and Dacre Montgomery, a dashing Perth actor best known as the villainous Billy in Stranger Things' second and third seasons. And now, both promising performers are getting the team-up they deserve in The Broken Hearts Gallery, an adorable romantic comedy set for cinema release on July 16.
Sign up for Flicks updates
The movie is produced by Disney starlet Selena Gomez, which accounts for the delightfully youthful and vibrant feel of the first trailer below. Viswanathan stars as Lucy, a jilted young woman who accidentally starts a post-break-up phenomenon by publically displaying souvenirs from all of her previous failed relationships.
An "emotional hoarder", Lucy's gallery of her personal break-up history inspires others to join in, showing her she's not alone, and maybe even giving her the confidence to pursue a new relationship with a supportive newcomer (Dacre Montgomery).
The Broken Hearts Gallery looks like just the thing to draw you and your best girlfriends out of self-isolation and towards the cinema (as soon as it's safe and responsible to go, obviously). And it's also just a lovely opportunity to check out two Aussie up-and-comers who are really making a name for themselves in the US! They're charming, they're nice to look at, and their American accents are up to scratch. What's not to love?