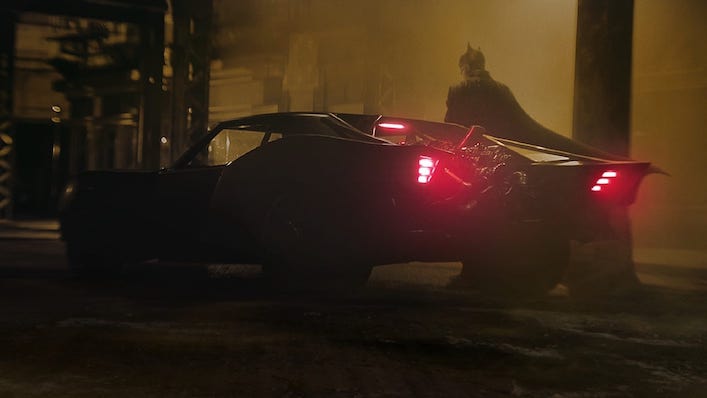 R. Battz Rising: when will The Batman be released in Australia?

---
Robert Pattinson is next up to bat, man, in yet another take on the iconic DC character. The Batman swoops into Australian cinemas on March 3, 2022.
It seems like an age ago now that Ben Affleck was preparing to script and star in his own standalone Batman film. But with that whole era of DC characters seemingly in semi-retirement, after the critical thrashing of Wonder Woman 1984 and both versions of Justice League, we're currently anticipating the rise of R. Battz. Or Robert Bat-tinson, whatever you'd rather call him.
March of next year feels like a long time to wait; DC has masterfully trickle-fed us promotional imagery and info over the past years as to how The Batman will re-tell the very familiar story of Bruce Wayne's masked super-heroics.
Kurt Cobain's vocals sneer over the first moody teaser, which premiered at last year's DC FanDome event. We see glimpses of Jeffrey Wright's Commissioner Gordon and Andy Serkis as Alfred—plus a slinky scene of Zoë Kravitz's Catwoman breaking and entering.
But there's surprisingly little of Batman himself, or villains The Riddler and The Penguin (Paul Dano and an unrecognisable Colin Farrell). Expect some more revealing trailers by the end of the year.
Director and producer Matt Reeves has promised "an almost noir-driven detective version of Batman that is point-of-view driven in a very, very powerful way". The character did, after all, start his life in issue #27 of Detective Comics, and his best stories have always been grounded and gritty urban crime odysseys—a nice point of contrast to the large-scale adventures of Justice League pals like Superman or Wonder Woman.
Are you sick of all the various Batmans yet, or will you give this emo incarnation a chance? Either way, you've got until March 2022 to make up your mind.