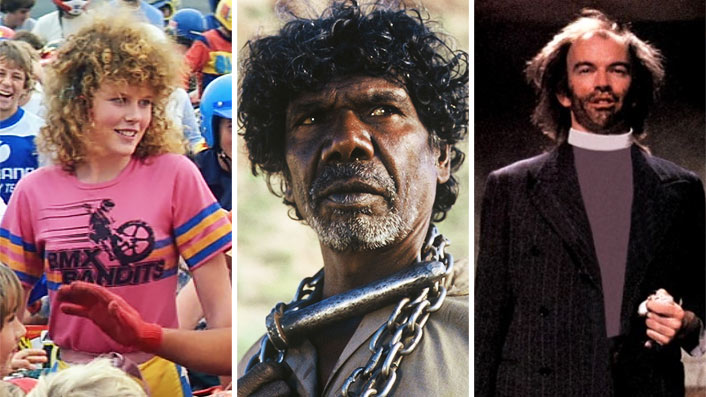 Netflix just added a tonne of classic Australian films to its library

---
Despite its enormous popularity with Australian subscribers, Netflix hasn't always backed Aussie film and TV. Sure, you've got some rare homegrown content such as Nanette and Lunatics, but in general, the streamer has made pretty feeble attempts to represent its audience from down under.
In 2018, in fact, Netflix Australia was found to have only 1.6% local content, down from a still-measly 2.5% the year before. That's 82 out of almost 5,000 titles! So we're bloody stoked that a treasure trove of classic Australian films have been quietly dumped onto the platform, hopefully bringing that national number up a bit in a sea of international competition.
Whether you see it as an easy way for the mega-streamer to meet coming content quotas or not, you can't argue with some of the stone-cold classics Netflix has acquired lately. One of the most surprising titles is Rolf De Heer's shocker Bad Boy Bubby, which you will not be able to un-see but that's okay because it's bizarrely funny and artful whilst also featuring some harrowing scenes of incestuous abuse and cat torture. If you're into that sort of thing.
Bad Boy Bubby on @NetflixANZ. One of the most quotable films of all time. Me be Pop! Be still! Christ kid, you're a weirdo! pic.twitter.com/xOHHR70dOc

— Cam (@camliveshere) May 13, 2021
Many of the new additions are tempting as early appearances of our favourite Aussie actors, like dream team-ups Rose Byrne and Heath Ledger in Two Hands, and Guy Pearce and Claudia Karvan in Dating The Enemy. Baby Nicole Kidman still has her original curly red locks in BMX Bandits, and Cosi is a quirky tale of sanity, community and art, starring just about every famous Aussie actor you can think of (Toni Collette! Ben Mendelsohn! Rachel Griffiths! Barry Otto! David Wenham! Jacki Weaver!).
Australian history comes to life in hits such as The Dish, tram-tastic Malcolm, Breaker Morant and David Gulpilil's astounding lead performance in The Tracker. But there's also a bunch of Aussie movies with international crossover appeal, like the gloriously stylised Dark City and Shine, the film that first brought Geoffrey Rush to the world's attention.
As our own Luke Buckmaster insisted when pointing out Netflix's "piddly" track record with local content to NME, "we ought to live in a world where Australian films and TV shows continue to get made and seen." And 2021 has indeed been a solid year for national cinema so far, the first time ever that three Australian films have topped our box office.
But it's just as important to look back at Australian films of the past, and to realise that we're not missing a film culture; it's just not been visible, or easily accessible. I mean, strewth, we've barely had time to acknowledge additions like Angel Baby, Sirens, The Back of Beyond and They're A Weird Mob in this article. Guess you'll have to visit Netflix and discover them yourself.