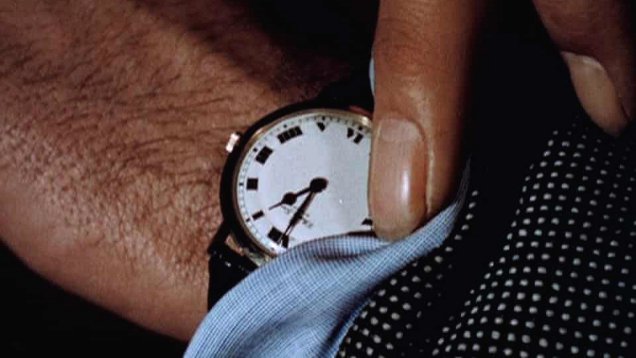 How long should a film about the time be?
The answer, at least according to visual artist Christian Marclay, is that a true film about the time should be 24 hours long – thus capable of representing every single minute of the day.
If a film of that nature sounds too far-out to comprehend…well it's already been made.
Marclay's legendary film The Clock is a cinematic tour de force with a running time of (you guessed it) 24 hours.
Sign up for Flicks updates
This critically acclaimed and by all accounts gobsmacking piece of work (which debuted in London in 2010) will screen at Melbourne's ACMI Cinemas in January, February and March in 2019.
To make it Marclay collated over 12,000 clips from a huge array of film and television shows related to clocks, watches and other references to time.
These clips have been edited together so that they flow in real time and are synced to the present moment – meaning 1pm on the screen, is 1pm in real life for the audience.
A five star review published on The Guardian included the following paragraph:
"The Clock is a chronicle of cinema, a history of the modern world and a meditation on the mystery of time. It is above all a great work of art that touches the truth of being human. We fear time, but it makes us who we are. We tick to the same beat."
To summarise: we're pumped.
Screenings of The Clock at ACMI, which will take an entire 24 hours, are as follows:
10am Thurs 24–10am Fri 25 Jan
10am Thurs 31 Jan– 10am Fri 1 Feb
10am Thurs 7 Feb –10am Fri 8 Feb
10am Thurs 4 Feb –10am Fri 15 Feb
10am Thurs 21 Feb –10am Fri 22 Feb
10am Thurs 28 Feb–10am Fri 1 Mar
10am Thurs 7 March –10am Fri 8 Mar
Head to the ACMI website for more information.