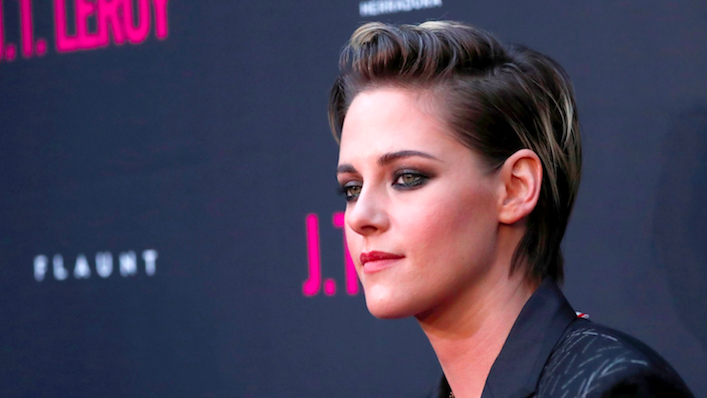 Kristen Stewart will play Princess Diana in Spencer. Here's what we know so far

---
Director Pablo Larraín's film Jackie caused quite a stir when it came out in 2016, starring Natalie Portman as an embittered, complicated version of the 1960s First Lady. That film took an experimental look at probably the most pivotal moment in Jackie Kennedy's life; the days following her husband's assassination, with non-linear cuts into her happy past and uncertain future.
Now, Larraín and Locke screenwriter Steven Knight have announced an upcoming drama about a similarly turbulent historical moment for another famous First Lady of sorts: Princess Diana, set to be played by Twilight star and current indie darling Kristen Stewart.
Sign up for Flicks updates
Entitled Spencer, after Diana's maiden name, the movie will take place over the course of three days Princess Diana's "final Christmas holiday in the House of Windsor in their Sandringham estate in Norfolk, England".
Stewart has some experience playing infamous historical figures, recently staring as Jean Seberg in the era-spanning biopic Seberg. That performance, which brought out the character's rebellious activist side more than her glamorous Hollywood lifestyle, suggests this depiction of Diana might give us some of the same fascinating unseen details.
Since breaking out in the critically maligned Twilight series, Kristen Stewart has definitely skewed more towards complicated arthouse roles (with the exception of goofy sci-fi Underwater), so it'll be interesting to see what she brings to a character who is so beloved and romanticised.
I understand some of the comments of the people from UK. It is a controversial casting. It is. But it is not on Kristen Stewart's hability to perform, to demostrate, to capturate moments, because she is good. She is. And she doesn't take these things lightly. pic.twitter.com/0jooDpQZzN

— |Kristen| (@bellaxkristen) June 17, 2020
The last time Diana's life was adapted for the screen was in the poorly received Diana, a Naomi Watts flop that Flicks.com's reviewer Domic Corry described as "the cinematic equivalent of flipping through an old issue of celebrity tabloid rag Hello!".
Hopefully Stewart, Knight, and Larraín can come up with something a bit more inspiring than that. Here's what Larraín has said the unique appeal of his upcoming movie's subject matter:
"We all grew up, at least I did in my generation, reading and understanding what a fairy tale is. Usually, the prince comes and finds the princess, invites her to become his wife and eventually she becomes queen. That is the fairy tale. When someone decides not to be the queen, and says, I'd rather go and be myself, it's a big big decision, a fairy tale upside down. I've always been very surprised by that and thought it must have been very hard to do. That is the heart of the movie."