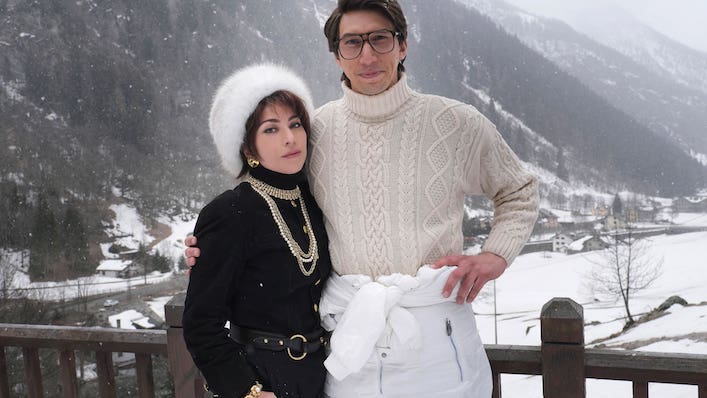 Killer style: the trailer and release date for House of Gucci, starring Lady Gaga

---
If Urban Dictionary is to be believed, "it's all Gucci" is taken to mean that everything's fine, comfortable; great, even. Not all the mess and murder of a family fashion dynasty left crumbling, after the assassination of the founder's grandson at the hands of his wickedly stylish ex-wife.
Strutting into cinemas on November 25, House of Gucci follows the shocking true events of Maurizio Gucci's murder, a scandal which shook the fashion world back in 1995. Ridley Scott directs a killer cast of established drama legends like Al Pacino and Jeremy Irons, Oscar darlings Adam Driver and an unrecognisable Jared Leto, and, most glamorously of all, Lady Gaga.
In her first role since A Star Is Born, Gaga plays the dramatic and deceptive Patrizia Reggiani, or at least the version of her depicted in Sara Gay Forden's 2001 book The House of Gucci: A Sensational Story of Murder, Madness, Glamour, and Greed.
In the below trailer, Gaga crosses herself sternly, promising that she can keep a secret to a prosthetic-clad Jared Leto (who looks more like Paul Giamatti as a lost Mario brother than his usual self): she swears on the "Father, Son, and House of Gucci."
If you loved American Crime Story's second season, focused on the tragic murder of Gianni Versace, or Ridley Scott's last film about a corrupt family of noble repute All The Money In The World, this is going to be right up your alley. Or runway. The trailer is rife with 'Academy Award nominee' and 'winner' banners, flaunting the actual celebrity clout behind a tale of fashion-world clout gone wrong.
House of Gucci arrives fashionably late in the year. With that trendy cast, an already-cinematic true crime scandal to draw from, and the above trailer's glam use of Blondie's Heart Of Glass, you can expect killer style in abundance.