Jingle all the way to Westeros this Christmas with the Game of Thrones box-set

---
Summer is coming.
And with it, the holidays! A season of generosity, and some well-deserved time off. In fact, if you've got a spare 75 hours during the festive season, why not watch HBO's fantasy epic Game of Thrones in its entirety?
Sign up for Flicks updates
HBO has announced the release of all eight seasons on Blu-ray and DVD in highly collectable box-set packaging, the perfect Christmas gift for the Khal or Khaleesi in your life. Some of these comprehensive collections include nifty extras such as a stylish wooden case, and the usual behind-the-scenes documentaries and cast and crew commentaries – and it's all available on December 4, right when your Christmas list is starting to look impenetrable.
That wooden shadow box case, designed by Robert Ball and retailing for $499, features nine disc sleeves with ornate graphics showcasing "iconic characters and memorable moments from the show," all held together by a cute mini version of the "Hand of the King" pin clasp.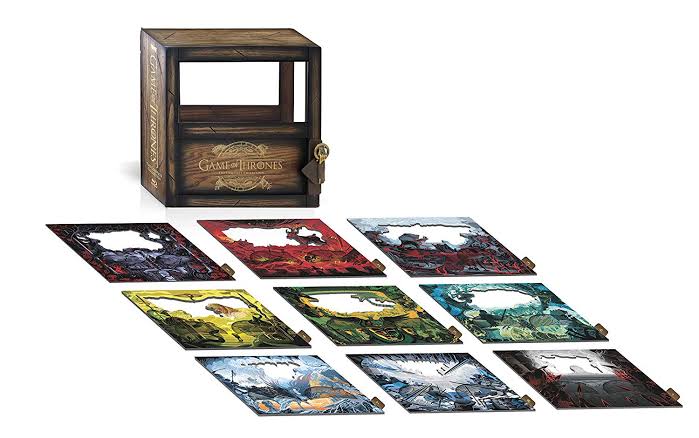 As of this year, Game of Thrones is the most awarded series in television history, with a total of 132 Emmy nominations and 59 wins. Despite that statistic, and its enduring popularity as the Biggest Show On Earth for a while there, the creators of Game of Thrones have recently had to endure some vocal dissatisfaction from fans and critics alike, who found the series' eighth and final season underwhelming.
That'll teach you people to look forward to things.

— Dave Weigel (@daveweigel) May 20, 2019
Maybe, upon popping your brand new Game of Thrones season eight DVD or Blu-ray into its player and hearing Kit Harington's velvety London accent again, you'll find a little Christmas warmth in your heart that allows you to see the show in a new light. Snuggle up on Boxing Day with some eggnog and leftover roast ham, and be thankful you're not being pushed out a moon-door, or having your genitals sawn off by Ramsey Snow. Isn't that, after all, what Christmas is all about?